---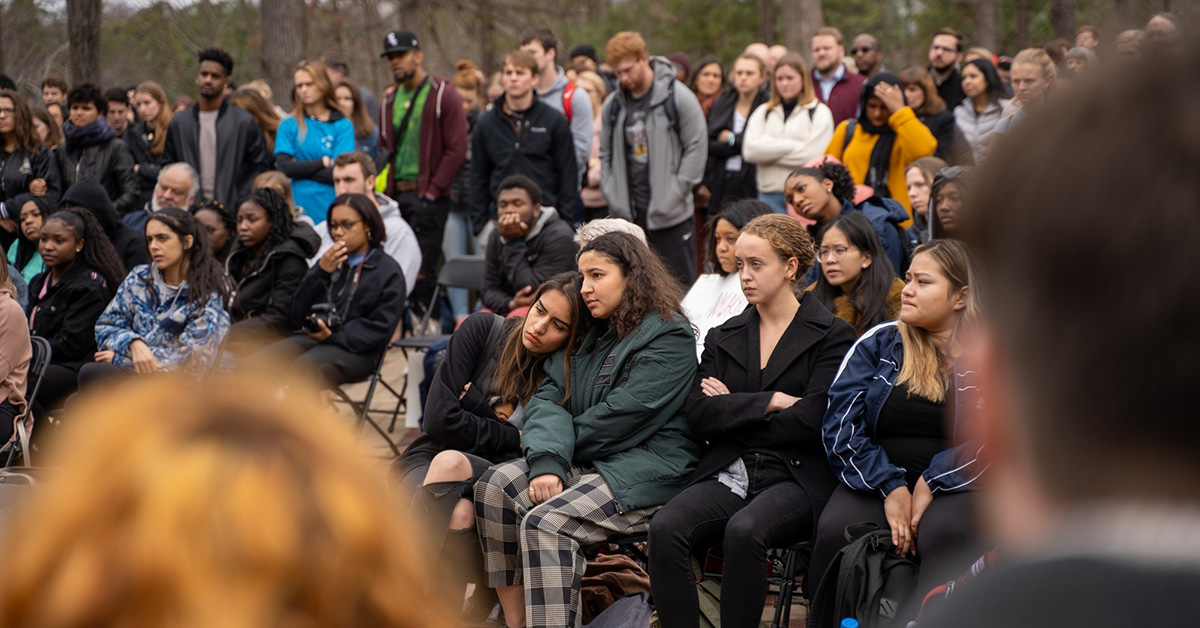 While it has in some respects been a disheartening week at the University of Richmond, I choose to be hopeful. I take hope from President Crutcher's message in response to incidents of racist and xenophobic scribblings targeting minority and international students that sparked a series of conversations. My hope also stems from the swift, courageous acts of many of our students decrying such bigotry.
First, while attending Saturday's men's basketball game, I was extremely proud of our students who wore black and stood silently and collectively during the game to protest the acts of hatred they had witnessed or learned about throughout the weekend. Rarely have I been so moved—moved to examine practices and attitudes across the university, including my own. I'm grateful to the students for making such a powerful statement.
Tuesday I attended a rally—"More Than Just a Message"—organized by Jepson School senior Lina Tori Jan. At the open mic session she said, "I pray and I hope that the people or the person—whoever it is that wrote those words, that had the guts to write those—that you are here. And to this day I will still call you brother, and I will call you sister, because I have hope that your hearts will change." Twenty-one other students and a faculty colleague spoke of their frustrations but also about how they plan to move forward as individuals, as a group, and as part of this institution.
The theme of racism and race in America emerged again last night during the presentation "Leading with Truth: Journalism as a Catalyst for Social Change." Attended by students and community members alike, this event featured the Jepson Leaders-in-Residence: Richmond Times-Dispatch columnist Michael Paul Williams and NPR White House correspondent Ayesha Rascoe.
I encourage students to attend a University-sponsored community meeting from 6-7:30 tonight in the Alice Haynes Room of the Commons, where they can share their experiences, reflections, and concerns as we consider how to move forward as a community. I'm mindful that there is much we need to change at the University of Richmond; but I'm also hopeful that with the help and leadership of our students, we will move beyond the recent racist events and the hatred they represent.
The conversations that have spread across the campus this week must be ongoing. No good will be served if we talk today and then return to the status quo next week. It goes without saying that while our experiences at the University of Richmond are particular to our setting and time, the conversation about race has wider currency, resonating in the city of Richmond and our national and international politics.
Photo credit: Collegian photographer Ben Wasserstein photographed the student-led open mic protest on Jan. 28 at the University of Richmond.