Possibly the thing I found most surprising about our walk during class on Wednesday was that the University of Richmond campus makes up only about 15% of the Little Westham Creek watershed.  Little Westham Creek is seemingly so small; I had a hard time believing it went on much past our school. However, the creek provides a significant connection between Westhampton Lake and neighboring bodies of water such as the James River and East Branch Tuckahoe Creek.  Even this small body is important as a watershed, as bodies of water can have watersheds that are much, much larger than the bodies themselves.  It's all a matter of where the rain runs to.  These watersheds connect chunks of land that are seemingly unconnected.
There is always the talk of the "Richmond Promise" that the University of Richmond has made, and part of that promise is how we pledge to be connected to the greater Richmond area.  I always thought this pledge was just sort of something we said to put on a good appearance, but never really acted on, as students don't even leave campus much.  However, it was interesting to hear about how the University actually works with the local communities to prevent heavy river flow in our watershed.  The university constructs LEED buildings and works on its sustainability, while the communities make rain barrels and rain gardens.  Working for the school's sustainability department, I always knew about our efforts, but now I see them as a part of how we interact with the community as a whole.  Together we work make a better watershed.  Before that walk I also only thought of the one directional interaction: University of Richmond community getting involved in the surrounding Richmond community.  However, as we work together to improve the watershed, the community is more getting involved with us, as we contain only a small part of the Little Westham watershed, but yet the biggest benefit of the creek: Westhampton Lake.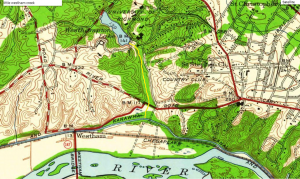 I've edited this map so Little Westham Creek is in yellow.  Surrounded by multiple important roads, the University of Richmond Campus, a county club, and other bodies of water, the creek runs past very different areas.  While the population at the U of R is young, our neighbors at the country club tend to be much older. In our surrounding neighborhoods there are people of all ages living, working, and going to school.  The water links us all and makes these spatial and demographic boundaries irrelevant.  Even a small thing like a creek can create a cohesive community out of a large area.