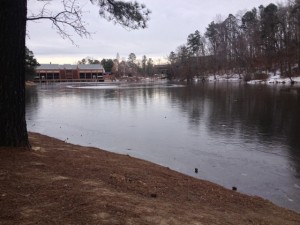 I almost didn't recognize my reflection spot as I approached it. The vibrant colors of fall that I had left behind during my last visit had all but faded to a monochrome of white to black.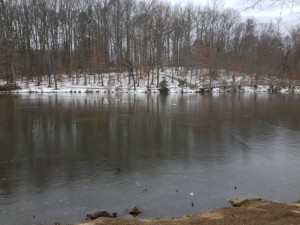 I try to remember how to do this and find my self lost in the cold beauty of the space around me. Winter lets you see so much more of the world around you by getting rid of the visual noise of leaves hanging from trees. I can see all the way to the top of Westhampton Forest. The lake is mostly frozen, save for a few rings around the bubblers, and fogs the reflection of the world forcing  you to look up and around. No longer is there the crunch of leaves, the gossipings of people, or the lapping of water. Instead, a long silence, broken intermittently with soft bird sounds and rushed steps.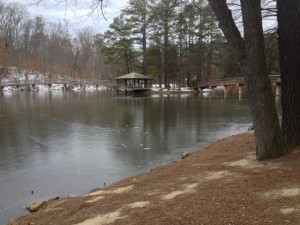 What is this trying to tell me? That's the question I struggle with. Every time I've come here I've walked away with an understanding of something about myself and nature, but today the cold seems to have stopped the cogs of my mind from finding anything in this beautiful landscape. It's simple, pure, raw, and harsh. This is what nature is. It doesn't have to tell you something, it just shows you who it is. It lets you in and lets you live. The cold is a time of reflection. It's where we all struggle to remember what warmth felt like, what green is, and how we ever survived with insects everywhere. But it is in that reflection that the cold natural world lets you see the beauty in all that you wish was there.
The cold is beautiful because it is clear. There is no noise, no reflections to get lost in, it forcefully makes you focus on the world around you and not at the spot of ground below you. It lets you remember, to wish, to want, to desire. That's what the cold is for.