As the hodge-podge of Earth Lodge and GIS students left Atlantic House to take a closer look at the source of water that feeds Westhampton Lake, I was struck by my ignorance. Not only had I never examined the area where Little Westham Creek flows into the lake, it had never even crossed my mind. As a former resident of Moore, I am ashamed that I never took a walk a short way down the road to discover more about my natural surroundings.
Then again, my ignorance is not surprising or rare. The way our world is constructed is human-centric and seems to navigate us away from nature. Try taking the Axe Handle Academy Test like the Earth Lodge students did on the first day of class and realize just how unaware you are about your local environment (http://www.ankn.uaf.edu/curriculum/AxeHandleAcademy/axe/placequiz.htm). Cars whizzing by on the road as the classes made their hike down the road solidifies my point. Humans have even made it dangerous to access nature.
As we continued, discussions about impervious surfaces and increased runoff caught my attention as well. This is another way humans unknowingly impact the environment. Our buildings, sidewalks, and – here it is again – roads, all contribute to increased runoff because nutrients and chemicals in rainwater have less contact with the soil that would absorb them. For example, "In a River Runs Through Us," one of the articles the class was assigned, the author discusses how nitrogen and phosphorus from agricultural areas cause algal blooms once they reach the water. There are also traces of hormones and drugs in the James River that were washed down into the water, rather than soaked up and (hopefully) purified or eliminated underground. Even without chemical equipment, one can see that Westhampton Lake also suffers from runoff.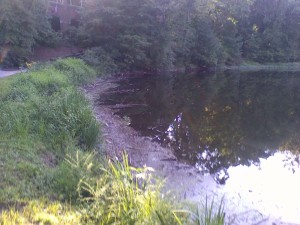 This summer, as a watershed monitoring intern for my count, I heard a lot about impervious surfaces. My county instituted a local tax on impervious surfaces in order to fund projects that restore water quality. There was backlash about the fee, but it illustrates the point that our environmental situation has become so dire, so ignored that we must force people to pay for its care. Rather than each of us developing a relationship with nature and treating it well, we are constantly redirected to the man-made.
We are separated from our natural surroundings and this shows in how we interact blindly with the water and the earth. When we use resources we do not think about where it is coming from and where it will go. When we construct roads, sidewalks, buildings with roofs, we do not consider how that impacts water flow and water quality. Our walk around Westhampton Lake stressed the point that at least I can take off the blindfold and explore.