While unpacking from th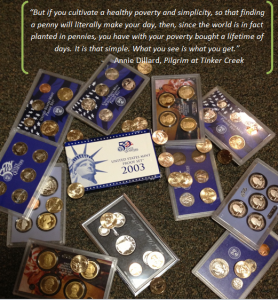 e holidays, I re-stumbled upon the collection of coins that have accumulated as result of the annual gift my uncle insists on giving. Every year, he gives my brother, sister, and me the current year's U.S. mint series of quarters/ assortment of coins. After this discovery, a couple of days had passed and I began scanning the books we read for Earth Lodge for quotes that we chatted about during our Sunday meetings. After reading the quote written on the picture and taking a 20 minute brainstorming nap, a connection formed between the pile of cased quarters and Pilgrim at Tinker Creek. The image of these quarters, all in mint condition, started tiptoeing around my head. In their case, these coins are often bought and sold for considerable amounts more than their monetary worth, but once they're removed, they are held in the same regards as… well, any other quarter. For many coin collectors, great excitement comes with obtaining these coins after their release. I began to realize that over the years, I have instilled an inherent heightened value to these coin sets. Part of me thinks that it's simply because I've carried them around for so long and they've, in a strange way, been with me through many chapters of my life. However, after seeing the memories that I have shared with these quarters, I realized that I could very well crack open the cases and be exactly as excited about them as I was before. I could go to the store and spend them all on something trivial, and for the rest of my life, I would be excited by the mere thought of obtaining coins for the sliver of chance that one of those that saw me through my childhood may return.
Too literal of an interpretation? Possibly. But in the same way as being excited by the coins' return, sharing the things you love and seeing the small beauties in life, even if at first, you must search deeply and almost trick yourself, is a way to cultivate that healthy poverty that Annie Dillard speaks of.