Editor's note: Arachnophonia is a regular feature on our blog where members of the UR community can share their thoughts about items in the Parsons Music Library's collection. All links included in these posts will take you to either the library catalog record for the item in question or to additional relevant information from around the web.
Today's installment of Arachnophonia is by Music Library student library worker, Eve (class of 2020) and features a 2012 Bob Dylan biography. Thanks, Eve!
The Ballad of Bob Dylan: A Portrait by Daniel Mark Epstein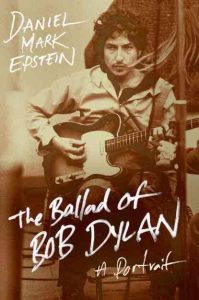 I associate Bob Dylan with family; I grew up hearing my Dad play Dylan recordings and listening to my older brother singing classics such as "Blowin' in the Wind". This summer, my love of Bob Dylan was rekindled when I lived in Utah, as songs such as "Tangled up in Blue" and "Shelter from the Storm" were the perfect soundtrack for road trips with friends. In addition to loving Dylan's music, I am interested in him as a counterculture icon, political figure and individual, and particularly want to learn more about his role in the Civil Rights movement and Vietnam War.
As such, I am excited to explore The Ballad of Bob Dylan, a biography written by Daniel Mark Epstein. The book uses four formative concerts to examine Dylan's rise to fame, his shift from folk to rock music, and more personal aspects of his life and character. It includes interviews with those close to the singer-songwriter such as Nora Guthrie and Ramblin' Jack Elliot, as well as lyrics from Dylan songs and poems. While there are many biographies about this "voice of a generation", The Ballad of Bob Dylan is accessible and comprehensive, allowing it to be the perfect read for a budding Dylan fan.