By: Jessica King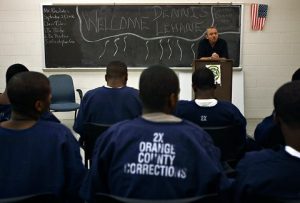 In the United States, approximately 24,000 juveniles are held in detention on a given night. Three hundred thousand young offenders are admitted to detention centers every year.[1]  The sentencing of an offender is driven by three key considerations: punishment, deterrence, and rehabilitation. Rehabilitation often holds the most weight when discussing the sentencing of youth offenders.[2] Juvenile justice policy has been increasingly focused on incarcerating the country's young offenders rather than alternative approaches such as rehabilitative services.[3] However, the traditional model of juvenile corrections has adverse effects on young offenders, with almost three-quarters of released offenders being convicted within three years of being released.[4] Virginia's traditional model for youth offenders failed to prepare them to be successful adults, showing higher recidivism rates for those sentenced to facilities versus those placed in community-based programs, connections to family, and improved access to employment.[5]
Virginia has recognized the lack of successful rehabilitation in traditional facilities. The Department of Juvenile Justice (DJJ) established a transformation effort focused on four core initiatives: reduce, reform, replace, and sustain.[6] DJJ intends to reduce the use of extensive correctional facilities and reform the correctional and treatment programs within these facilities, with the ultimate goal of replacing the outdated facilities with smaller treatment-oriented correctional facilities and local alternative placements.[7] Before the transformation effort, the juvenile correction facilities focused on a management approach, emphasizing security and control over rehabilitation.[8] The transformation by the DJJ implemented a Community Treatment Model focused on a community-based, rehabilitation-focused approach.[9] The overall goals of the model were to promote youth rehabilitation, reduce behavioral infractions within the facilities, and better support the reentry into the community.[10]
One traditional youth-detention facility remains in Virginia, the Bon Air Juvenile Correctional Center, located 20 minutes south of Richmond.[11] In traditional facilities, juveniles undergo therapy in empty cells and face isolation from family, contributing to higher recidivism rates.[12] In 2017, 80% of juvenile offenders were eligible for diversion plans, such as lesser offenses being sentenced to probation or community services or sending the offender to an independent living program in their own community.[13]
Darrynun Mabry, one of the offenders sentenced with a diversion plan, was caught and charged with bringing a gun to school. [14] Rather than being sent to Bon Air, he was enrolled in the Tidewater Youth Services Apartment Living Program.[15] The Tidewater Youth Services Apartment Living Program is one of the diversion programs where the state rents a block of apartments for youth offenders to be independent while under the supervision of counseling staff.[16] While in that program, Mabry was enrolled in the HVAC program at a nearby college and worked at a local deli.[17]  An emphasis on independent living skills is a crucial benefit to diversion plans like the one Mabry attended versus the traditional correctional center model, allowing offenders to stay in the "real world" rather than receiving treatment in isolation.
Although the push towards treatment and rehabilitation appears to be a success, there is little research on the outcomes, as policy and practice change have outpaced research.[18] However, recidivism rates in Virginia have dropped to one of the lowest in the country, showing that the effort towards rehabilitation is working.[19] Virginia's current focus on rehabilitation is ultimately better for the juvenile offenders and the public as a whole, producing more successful adults out of offenders who may have been regulars in the correctional system under the traditional model.
[1] Anne S. Teigen, Legislative Reforms in Juvenile Detention and the Justice System, Nat'l Conf. of State Legislatures 2 (2015), https://www.ncsl.org/documents/cj/juvenile_detention_legislative_reforms.pdf.
[2] Susan Young, Ben Greer & Richard Church, Juvenile delinquency, welfare, justice and therapeutic interventions: a global perspective, 41 BJPsych Bull. 21, 22 (2017).
[3] Alex R. Piquero & Laurence Steinberg, Public preferences for rehabilitation versus incarceration of juvenile offenders, 38 J. of Crim. Just. 1 (2010).
[4] Laura Goren & Michael Cassidy, Smarter Choices for Virginia's Youth and Future, The Commonwealth Inst. 1 (Nov. 2015), http://www.thecommonwealthinstitute.org/wp-content/uploads/2015/11/smarter_choices_FINAL.pdf.
[5] Id. at 2.
[6] Our Transformation, Va. Dep't of Juv. Just. (last visited Oct. 21, 2021), http://www.djj.virginia.gov/pages/about-djj/djj-transformation.htm.
[7] Id.
[8] Hayley M.D. Cleary & Sarah Jane Brubaker, Therapeutic transformation of juvenile corrections in Virginia: A mixed analysis of benefits and challenges, 105 Child. and Youth Servs.Rev. 1 (2019).
[9] Id. at 2.
[10] Id.
[11] Nicolas Pollock, The Last Kids Locked Up In Virginia, The Atlantic (Mar. 16, 2018), https://www.theatlantic.com/projects/juvenile-justice/.
[12]  Id.
[13] Id.
[14] Id.
[15] Id.
[16] Id.
[17] Id.
[18] Hayley M.D. Cleary & Sarah Jane Brubaker, Therapeutic transformation of juvenile corrections in Virginia: A mixed analysis of benefits and challenges, 105 Child. and Youth Servs.Rev. 1, 11 (2019).
[19] Arianna Herriott, Virginia's recidivism rate remains among the lowest in country for 5th year in a row, 3WTKR (May 31, 2021), https://www.wtkr.com/news/virginias-recidivism-rate-remains-among-the-lowest-in-country-for-5th-year-in-a-row.