Editor's note: Arachnophonia is a regular feature on our blog where members of the UR community can share their thoughts about items in the Parsons Music Library's collection. All links included in these posts will take you to either the library catalog record for the item in question or to additional relevant information from around the web.
Today's installment of Arachnophonia is by Music Library student worker, Mary (class of 2018) and features a 2005 CD/DVD release by the band Maroon 5. Thanks, Mary!
Maroon 5
"Live: Friday the 13th"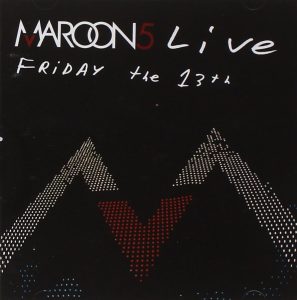 This is a live DVD and CD release by Maroon 5, and it was recorded on May 13, 2005 in Santa Barbara, California at the Santa Barbara Bowl. The live concert is a performance of all their songs and the CD contains the same tracks. I chose this one because Maroon 5 is one of my favorite artists and this CD contains one of my favorite tracks called "Sunday Morning." "Sunday Morning" is often described as blue-eyed soul or jazz-fusion. This is one of my go-to songs when I'm driving in a nice weather. When the weather gets warm and the sky looks nice outside, I just want to drive and listen to this song. This is the kind of a song that you want to listen to when you had a lazy day, slept in on a weekend and are going to a nice brunch place on a warm nice day in April or May. The lyrics are very sweet as well as it describes someone who is all the songwriter sees when life gets hard to do. I highly recommend this song to those of you who haven't heard it yet as the weather is warming up now!