Editor's note: Welcome to the first "Arachnophonia" column of the 2017-2018 academic year. Arachnophonia is a regular feature on our blog where members of the UR community can share their thoughts about items in the Parsons Music Library's collection. All links included in these posts will take you to either the library catalog record for the item in question or to additional relevant information from around the web.
As your friendly neighborhood blog editor/Music Library Associate, I thought I would kick things off for this academic year with a post in honor of British composer Gustav Holst's 143rd birthday.
"Beni Mora" (Op. 29, No. 1 1909-1910)
Today (September 21st) marks the 143rd birthday of British composer Gustav Holst. Holst was born in Cheltenham, England on this day in 1874. Today he is probably best known for his orchestral suite The Planets but he wrote many other works for orchestra as well as works for concert band, choral works, chamber music, operas and stage works. So, I thought I'd focus on one of my favorite pieces of his that is not quite as well known, "Beni Mora". This piece is available as streaming audio in the library collections and is available for UR students, faculty and staff to access on campus.
"Beni Mora" was inspired by a vacation trip Holst made to Algeria in 1908. In letters home to his wife, he called Algeria a mix of East and West where mosques and hijab wearing women were juxtaposed with advertisements for American cinematography (source: GustavHolst.info). He even went so far as to go bicycling in the Algerian portion of the Sahara desert — quite a vacation!
There was a fascination with "the orient" as a broad concept (literally broad stretching from North Africa to India to Japan) in Europe and America in the late 19th and early 20th centuries which led to a bit of an artistic fad for "Orientalsm" across various artistic media with varying success.
The work premiered in 1912 and definitely reflects a mixture of East and West there is definitely a westernized sense of the "Oriental" evident, but not in a way that feels disrespectful of the culture that inspired it.
"Beni Mora" consists of three movements – two dances and a finale subtitled "In the Street of Ouled Nails".
The first dance starts off with a languid, almost cinematic feel — winds blowing across lonesome sand dunes are definitely evoked to my Western ear and builds to a louder, bigger feeling section that sounds to me like a lost outtake from the soundtrack to Lawrence Of Arabia (which of course was written much later!).
The second movement starts with an interesting syncopated percussion motif and makes use of orchestral tone color, having various melodic lines thread through different sections of the orchestra and groupings of instruments.
The third movement was directly inspired by a repetitive flute tune that Holst overhead during his Algerian travels. This 8 note flute melody becomes the hypnotic basis for this movement and is repeated many times while other harmonies, instruments and musical themes swirl in and amongst and around the repeating flute motif in a manner that suggests the changing scene as people come and go on their daily business on an Algerian street and also help keep the motif interesting. Some music critics have even referred to this movement as "proto" minimalist because of the 163 plus repetitions of that flute motif.
I first discovered "Beni Mora" in 2003 when I was living in Cheltenham while working at the Holst Birthplace Museum and fell in love with its blend of exoticism and romanticism that causes it to sound like a miniature film score. This feels like something that really would fit right in on a film soundtrack from a 1930s or 40s serial (or an Indiana Jones movie), which also appeals to me. I admire Holst's curiosity about other cultures as evidenced in his incorporation of his Algerian vacation experience and musical style (as he perceived it) into this musical travelogue.
(Fun fact: Holst was also fascinated by the culture of the Indian subcontinent and wrote choral works and chamber operas exploring myths and legends of India, even going so far as to teach himself Sanskrit so he could read Hindu texts in their original language! Yay cultural curiosity!)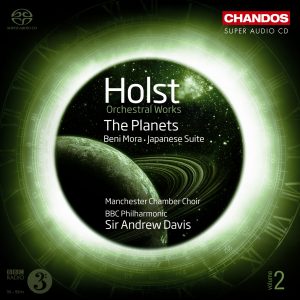 Of course, one should also listen to "The Planets" (it's very famous and beloved for a reason), but I think "Beni Mora" provides a great way to delve further into the output of an early 20th century composer whose total output is well worth exploring! (Especially since the Music Library has a version that can be streamed — access is a wonderful thing!)