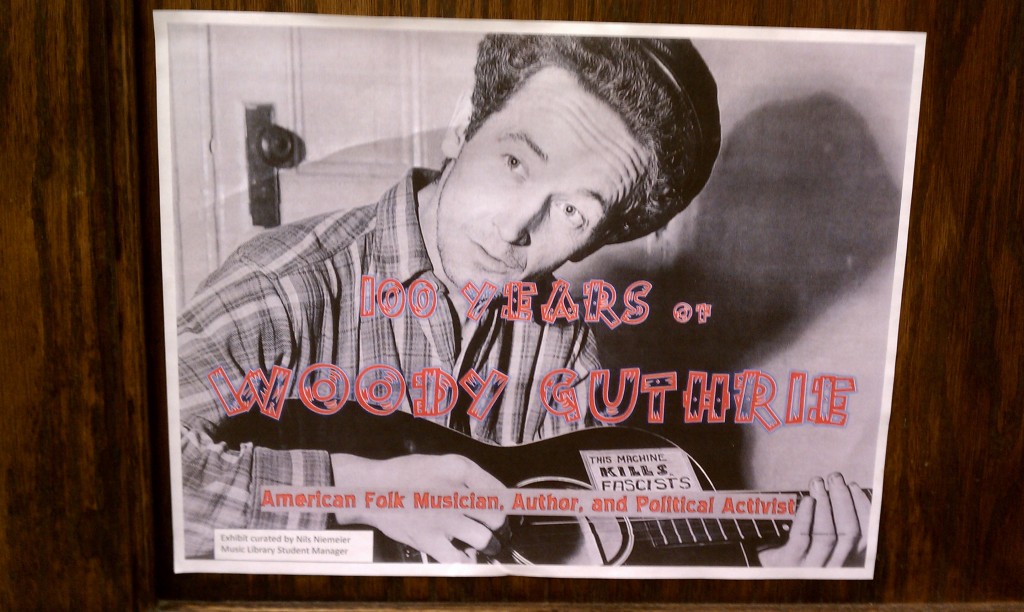 Editor's Note: This guest post by one of our Student Managers, Nils Niemeier, is a must-read for any fan of Woody Guthrie. It accompanies the new display put together by Nils on the second floor of Boatwright Library in the study area. Enjoy!
Woody Guthrie (1912-1967) may have only lived to be 55, but his legacy has had a continuous impact on American music, both in the folk scene and outside of it.  Born in Okemah, Oklahoma, Guthrie took to music as a way to support his first wife and three children during the Great Depression, traveling all over the western United States, playing concerts and radio programs and doing itinerant labor.  He finally settled in California in 1937, where he made a name for himself as a social commentator and musician on local radio stations.  He soon became tired of life in California, and headed east to New York in 1940, where he met Alan Lomax and recorded several hours of music and conversation with him for the Library of Congress. In 1941, he joined the Almanac Singers, a pro-Communist, anti-Fascist group of musicians with whom Guthrie wrote many songs urging action against the Fascists in Europe (though the Almanacs had been against US entry into the war prior to the breaking of Hitler's nonaggression pact with Stalin).  While in New York, Guthrie had his own radio program, and made money for himself and his family through his recordings.  Still a rambler, he traveled constantly across the United States.  Unfortunately, this constant traveling contributed to the dissolution of his first marriage.
By 1942, Guthrie was writing, and he published his semi-fictionalized autobiography, Bound for Glory, in 1943.  Around the same time, Guthrie enlisted in the US military, first in the Merchant Marine, and then in the Army.  All the while he continued writing songs.  Following the end of the war, Guthrie married his second wife, and settled down on Coney Island, where he lived until 1954.  They had three children together.  He continued writing songs and books, including several albums for children.  It was also during the 1940s that he began showing signs of developing Huntington's disease (which he inherited from his mother).  In 1954, he left his second wife and their children to go to California, where he met his third wife and had a daughter by her.  The rise in anti-Communist feeling and black-listings in California during the 1950s, however, caused him to head east again, this time to Florida, where he lived on a friend's property and began working on a second book.  As his symptoms worsened, though, Guthrie and his third wife went back to New York.  In 1958, he was diagnosed with Huntington's and was admitted to Greystone Psychiatric Hospital, where he lived out the rest of his days.  His hospital room became a mecca for young musicians who wished to play for or learn from him.  He died in 1967.
In total, over the span of his life, Guthrie wrote nearly 3000 songs, and two books.  He also left behind an extensive portfolio of paintings and drawings, as well as numerous letters and unfinished writings.
In light of the centennial of his birth, and given the enormous impact Guthrie had on the folk music movement in the United States, I have put together a small exhibit of just a fraction of the books and recordings by and about Woody Guthrie in our physical and electronic holdings.  Here are some excerpts from the exhibit text to pique your interest:
The first edition of Guthrie's autobiography, with a letter to Harry Zollars written in the endpapers.  The letter outlines Guthrie's personal political philosophy during the years of the Second World War: "…we will either soon have a union world or a fascist one—and even then the fascist one couldn't do any more than postpone the Union world—a bad and terrible and useless and bloody delay—so let's have Union—because Union is the sum total of all ideals and all religion."
Alan Lomax, known for his collections of American folk songs and field recordings of folk and traditional music made for the Library of Congress, became one of Guthrie's greatest musical allies.  As evidenced in the letter from Lomax, he held Guthrie in high regard.  With Lomax and Pete Seeger, Guthrie wrote notes for the songs included in the collection of union, work, and protest songs, Hard Hitting Songs for Hard-Hit People, which was not published until 1967 due to the controversial nature of the lyrics included, many of which exhibited a pro-union bias.  Not long after Guthrie became associated with Lomax, he also became a member of the Almanac Singers in 1941, a pro-Soviet group featuring Lee Hays, Pete Seeger, and Millard Lampell (among others. Including Lomax's wife, Bess, and briefly, Burl Ives), that strongly supported US intervention in the Second World War following Hitler's violation of the non-aggression pact with Stalinist Russia.
The letter on the left-hand page is Guthrie's open letter to the Library of Congress thanking them for the preservation of his songbook; in it, he jokingly hopes that members of Congress will gather around and sing his songs, especially "the most radical tunes."  He jokes, too, that if members of Congress knew that he was going to be published, they would have "cut my original book down by half.  Thank goodness we got it through."
The letter on the right-hand page is a more serious plea to R. P. Weatherald of RCA Victor to consider publishing an album of "war songs [as] work songs" to motivate the people to work toward the American war effort and defeat the fascists.
Guthrie's personal impact on the American Folk genre sometimes overshadows his work with other musicians.  In addition to his solo recordings, Guthrie performed and recorded with many musicians, including those involved with anti-Fascist, Popular-Front group, The Almanac Singers, prior to and during the Second World War.  Some of the musicians with whom Guthrie was associated were Sonny Terry, Cisco Houston, Pete Seeger, Leadbelly, and Brownie McGhee.
If you are interested in Guthrie's life, work, and music, feel free to browse the University of Richmond Libraries Catalog (http://library.richmond.edu), or see the exhibit in the Second Floor Study Area in Boatwright Library.  You can also learn more about Guthrie's life and music at the official Woody Guthrie Foundation website (http://www.woodyguthrie.org).