George Washington Carver made a name for himself with peanuts. He is world-reknowned for having beaten the odds€"as an African-American in the post Civil War era in America in the late 1800s€"to become a scientist and successful inventor. He was director of agriculture at the prestigious Tuskegee Institute (now Tuskegee University) in Alabama and is credited with creating not only 300 uses of the peanut, but also medicines, soaps, buttermilk, ink, shaving cream, and instant coffee, to name just a few. The following books, websites, and resources cover VA SOL 1.5.
Books on George Washington Carver
Written as a Buddy Books First Biography, George Washington Carver by Rebecca Gomez, is chocked full of information for the budding reader. With 29 pages broken down into 8 chapters, this book captures the salient facts on Mr. Carver's life and accomplishments in easy-to-read prose.
George Washington Carver: The Peanut Scientist, one book in a series written about Great African Americans, was written by Patricia and Fredrick McKissack.  This book would best be used by a first grade teacher to introduce the subject of Mr. Carver. It is filled with wonderful black and white photographs of Mr. Carver, depicting him in his various endeavors, that provide good primary resources for examing his life and times.  This book also has the requisite timeline and glossary for young readers if used in a group research activity.

Written by Nathan Olson and illustrated by Keith Tucker, George Washington Carver, Ingenious Inventor is a graphic novel depicting the life and times of Mr. Carver. In a clear and visually appealing way, this book sets itself apart from other biographies by its use of first person dialogue and the use of comic book style illustrations. I highly recommend this book to grab the attention of reluctant readers.

The Groundbreaking, Chance-Taking Life of George Washington Carver and Science & Invention in America was written and illustrated by Cheryl Harnass. The original pen and ink block prints and running timeline along the bottom of every page make this book an excellent resource for teachers. Excerpts can be shared with students as the level of detail in this book is much deeper than in the young reader selections.
Written by David Adler and illustrated by Dan Brown, A Picture Book of George Washington Carver is more than just a picture book. Watercolors depict Mr. Carver's life and the author cites Mr. Carver's own words on several occasions. This book is a brief introduction to Mr. Carver's life and accomplishments.
Websites about George Washington Carver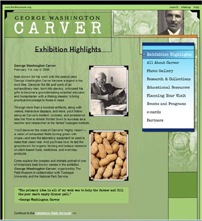 Excellent resource for quick information on Mr. Carver. This website shows some his artwork and how he used it to teach farmers about pests. It also has some background information on The Jesup Wagon, a rolling teaching cart, that Mr. Carver designed was filled "with soil samples, farm equipment, recipes, plants, and anything else that could have been used as a teaching tool".

Large type, a well-written first grade script, and an uncluttered page make this website a good choice for first graders studying Mr. Carver. It includes links to discover Mr. Carver's achievements, like one of the educational booklets he wrote, Help for the Hard Times. At the bottom of each webpage, there is a thought-provoking question for students to consider before clicking to read more (e.g., "What other ways could farmers make money?").
This website features an online game called Quia. It is available through subscription, but as one of its complimentary games, there is an excellent, trial version of a Who Wants to be a Millionaire-type gameshow featuring questions about Mr. Carver. Not only does this site provide the question-answer game, but it also provides background and facts about Mr. Carver as well.
Everyone keeps talking about all those uses of the peanut that Mr. Carver discovered, so what are they? This website lists the 105 recipes of Mr. Carver's from his How to Grow the Peanut and 105 Ways of Preparing it for Human Consumption publication in 1940.
A&E Biography showcases Mr. Carver in a mini-bio. There is a brief history of his life along with a very well-produced (A&E-style) mini-biographical video. Many parts of the video would be entertaining for a young crowd, however it does reveal a striking image of a hooded figure wrapped in a noose when describing a lynching that Mr. Carver witnessed in his early years.
Additional Resources for Studying George Washington Carver
From ReadWriteThink.org, this bio-cube is a fun way to help remember the facts about historical figures. Older students will enjoy typing the information online where younger first graders would benefit from a blank printout and entering the information manually. The software asks students to report a notable quote, personality of the individual, pertinent facts, and his/her significance to society. Once the information is entered, the worksheet can be cutout and made into a 3-D foldable of a cube.

Havefunwithhistory.com has a short video with a brief history of Mr. Carver's life. The video shows rare footage of Dr. Carver receiving an award at the age of 80 in 1941. Students will get a sense of Mr. Carver's humble nature and hear how his throat was ravaged by whooping cough in his youth leaving him with a high-pitched voice.
From the album, Teach The Children, Medicine Man Ya Ya sings an upbeat song about 'The Peanut Man'. Playing this little ditty in the classroom, while completing your art activity during your George Washington Carver lesson plan, will surely help kids remember Mr. Carver and the contributions he made to science and society. Click on George Washington Carver Song to hear a 30 second introduction to the song. In addition to the Mr. Carver song, Teach the Children, also features songs about Harriet Tubman and Rosa Parks.
The USDA has a great collection of worksheet activities perfect for 'morning work'. Among the handouts depicting Mr. Carver himself are the anatomy of a peanut plant (Science SOLs!), a dot-to-dot peanut, food pyramids, and cross-word puzzles for older students.