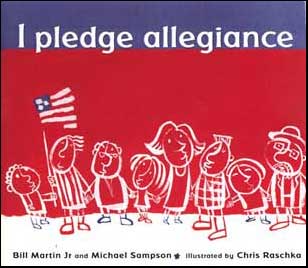 Bill Martin Jr. and Michael  Sampson are two men which came together in 1978 after meeting at a conference in Arizona. Both men have a passion for children's books and have written many award winning books together. In 2004 Bill Martin Jr. died, but this hasn't stopped Michael Sampson from publishing books that they had worked on together. Michael Sampson plans on publishing a poetry collection that Bill Martin and Michael Sampson have been working on for years in early 2009€¦ make sure to check that out!
I pledge allegiance is a wonderful book for early elementary students which introduces the Pledge through text and pictures. It starts off with the word "I" and has a picture of a child, one single child. This book really allows students to see what each word in the Pledge of Allegiance means. One of my favorite pages talks about the words "the republic" I enjoyed this explanation because this can be very difficult for children to understand but there are tons of people standing around in red and blue and it states€¦
The United States of America is a republic, which means that we the people elect leaders who make out laws.
I found this to be an easy way of explaining a typically difficult vocabulary. As a teacher this book is a wonderful depiction of what the students are expected to say at the beginning of every day. Instead of just saying the words, its important that each student understands what those words that they say everyday really mean.
Curriculum Connections
Students will know and understand the words in the Pledge of Allegiance. They will also recognize the American Flag once they are done reading this book. This touches on the VA SOL k.9.
Additional Resources
 The Flag this is a wonderful lesson plan that kinda goes a long with the book. It relates the words to pictures for the students to truly understand what they are saying. I would use this lesson plan in my classroom.
Classroom activities are very important for a lesson on the pledge of allegiance. This site goes through a 5 day lesson on the pledge of allegiance.  It relates math, art, literacy, music and cooking throughout the 5 days.
This site has the pledge of allegiance through coloring pictures for students. I think this is a wonderful way for students to express their artistic view through coloring.
Book: I pledge allegiance
Author: Bill Martin Jr and Michael Sampson
Illustrator: Chris Raschka 
Publisher:  Candlewick
Publication Date: 2002
Pages: 40 pages
Grades: K-2
ISBN: 0763616486