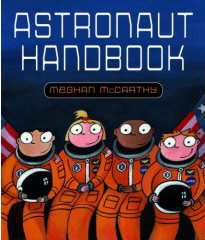 When I was a kid I had two recurrent dreams. One was to swim with Jacques Cousteau, and the other was to go to the moon. I didn't have moon boots, but I spent many hours on my pogo stick pretending I was "walking" on the moon. For kids with big dreams like mine, Meghan McCarthy's new book Astronaut Handbook is a great introduction to astronaut training.
Before I begin this review, I must share a little back story and make a personal confession. The first Meghan McCarthy book I ever bought was Aliens Are Coming!: The True Account Of The 1938 War Of The Worlds Radio Broadcast. Released in 2006, it quickly became part of my teaching collection. I now own every book she has published, in part because I'm so enamored with her style of illustration, and in part because of her skill as a storyteller. Her nonfiction works are particularly enjoyable because they present people and events in engaging ways. So, I'm putting all my McCarthy love out on the table and telling you upfront that I haven't met a McCarthy book I didn't like and that furthermore, I can always find creative ways to use these gems in the classroom.
Okay, on to the matter at hand. Astronaut Handbook opens the door to astronaut training and lets readers in on all the secrets. It begins this way.
Welcome to astronaut school! Soon you will be boarding a space shuttle and BLASTING into outer space. All different kinds of people have become astronauts. There have been teachers, painters, and even deep-sea divers. You can be an astronaut, too!
On this double-page spread the reader finds a diverse group of astronauts sitting at their desks, decked out in flight gear, reading to begin their training. Next readers learn different types of astronauts and are hit with the cold, hard fact that becoming an astronaut is a lot of work. A really beautiful double-page spread of a trainee working in a science lab where a stack of books is piled high is accompanied by text that reminds readers to "study hard in school. Studying isn't always easy, but stick with it!"
The text goes on to talk about fitness requirements, being a team player (the illustration of three astronauts working inside a confined space is amazing, and a bit unnerving for someone as claustrophobic as I am), survival training, and more. Readers learn about training for specific jobs, like engineers and pilots, as well as training for weightlessness on the Vomit Comet. After learning about space food, we get a look at a real space toilet and a space suit. Did you know that a space suit has 12 layers? or that on earth a space suit weighs 280 pounds?
Finally it's time to blast off, and readers see the astronauts preparing to liftoff on the space shuttle. Turn the page and rotate the book to see that baby take off! We're reminded again that it's best to like small spaces, as we see the astronauts strapped in and working together. The book ends with a double-page spread of one lucky astronaut walking on the moon.
McCarthy has provided a page of fascinating facts and a bibliography of books, web sites (NASA), videos and places to visit. For even more information and fun, check out the astronaut videos on McCarthy's web site. You can also learn how to make your own rocket! Finally, Random House has a downloadable teacher's guide for the book.
Overall, this is a really informative and entertaining book for young students interested in space and space travel. I thoroughly enjoyed this book and am looking forward to sharing it with teachers and their kids this fall.
Book: Astronaut Handbook
Author/Illustrator: Meghan McCarthy
Publisher: Knopf Books for Young Readers
Publication Date: 2008
Pages: 40 pages
Grades: K-4
ISBN-13: 978-0375844591
Source of Book: Personal copy purchased at a local independent bookstore.
If you are looking for companion texts for this book, I highly recommend using Faith McNulty's If You Decide to Go to the Moon. It picks up where Astronaut Handbook leaves off and focuses on the special preparations necessary for a moon landing. Then, for something more poetic and historical, consider using Anastasia Suen's book Man on the Moon, which tell the story of the Apollo 11 moon landing.
This post was written for Nonfiction Monday. Head on over to Anastasia Suen's blog and check out all the great posts highlighting nonfiction this week.