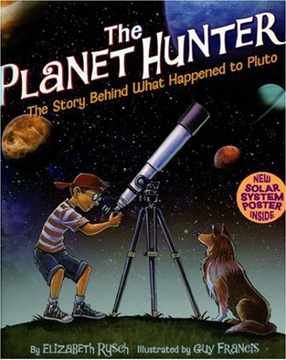 The Planet Hunter: The Story Behind What Happened to Pluto, written by Elizabeth Rusch and illustrated by Guy Francis, is a nonfiction picture book that introduces readers to Mike Brown, the astronomer whose discoveries led to the reclassification of Pluto.
We first meet Mike as a young boy. He is wearing a homemade space helmet on his head, dancing in mud puddles he created to mimic the way craters are made on the moon. (You can view an excerpt of this page.) We learn that he grew up in Hunstville, Alabama, home of the Marshall Space Flight Center, and that his fascination with astronomy carried him through childhood and into his adult career. He approached the study of the heavens systematically, as described in this excerpt.
Mike remembered how as a kid, he was always losing his sneakers. The only way he could be sure to find them was to start at one end of the house and search room by room.

"That's the way to find a planet," he said.

Using an old telescope, Mike began searching the sky, section by section.
Mike and a fellow astronomer made a bet, in which Mike suggested that someone would find a new planet within four years. He set about the task of searching in an effort to make sure that someone was him. The book goes on to describe how Mike searched for objects in the sky. Finally, five days after losing the bet, he found an object he hadn't seen before. He pointed as many telescopes as he could at the object he named Eris. Ultimately, photos from the Hubble Telescope confirmed he had found something that was bigger than Pluto!
This discovery led astronomers to rethink the definition of a planet. At an international meeting of astronomers, a planet was defined as "a body that circles the sun. It is large enough to be round. And it orbits alone, far from anything else its size." This redefinition meant that Mike's discovery was not a planet, and now, neither was Pluto.
This is a terrifically interesting biography that provides scientific information in an accessible way for young readers. In addition to the story of Mike Brown, throughout the book there are interesting facts and informational tidbits "bubbled" into the corners of the pages. The book also contains a pull-out poster of the solar system (newly reconfigured), with information about dwarf planets, the Kuiper Belt and the Oort Cloud. Overall, I found this to be an informative and thoroughly engaging book. I highly recommend it.
Book: The Planet Hunter: The Story Behind What Happened to Pluto
Author: Elizabeth Rusch
Illustrator: Guy Francis
Publisher: Rising Moon
Publication Date: 2007
Pages: 32 pages
Grades: 4-8
ISBN: 978-0873589260
Source of Book: Review copy received from TEOTF.
This post was written for Nonfiction Monday. Head on over to Anastasia Suen's blog and check out all the great posts highlighting nonfiction this week.
For those of you interested in learning more about the ideas presented in this book, check out these resources.