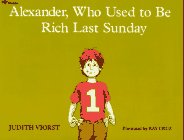 In this podcast, Kristin Coffee introduces listeners to the book Alexander, Who Used to Be Rich Last Sunday, written by Judith Viorst and illustrated by Ray Cruz.
Introduction
Alexander, Who Used to Be Rich Last Sunday incorporates math facts into a traditional children's book format. Judith Viorst writes in the voice of Alexander, a boy who, after receiving a dollar from his grandparents, tries to save up for a set of walkie talkies but ends up spending his dollar over the course of several days. By the end of the week, Alexander is left with only bus tokens, but readers have been provided with many opportunities to practice their math skills through reading about his adventures.
Related Books
The Berenstain Bears' Trouble with Money by Stan and Jan Berenstain
The Story of Money, written by Betsy Maestro and illustrated by Giulio Maestro

More Information
You can visit the official site for the Berenstain Bears.
You can read an interview with the Judith Viorst.
Visit this site for kids about the history of money.
Try this economics lesson that is based on the book.
Try this problem-solving lesson based on the book.
Try this lesson on opportunity cost based on the book.
Young Investor has a web site for kids on saving money.
Podcast: Play in new window | Download