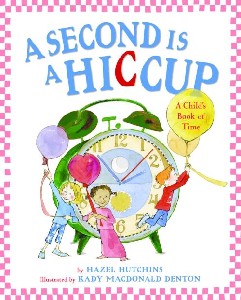 In this podcast, Jamie Malone introduces listeners to the book A Second is a Hiccup: A Child's Book of Time, written by Hazel Hutchins and illustrated by Kady Macdonald Denton.
Introduction
A Second is a Hiccup explains the differences between units of time, such as a second, minute, hour, day, week, month, and year. By using day to day activities, which are common and easy for students to understand, Hutchins does a wonderful job of introducing and teaching students about different units of time.
Related Books
It's About Time! by Stuart Murphy
Just a Minute by Bonny Becker

More Information
Experiment with elapsed time at this interactive web site.
Visit this site where kids can practice telling time.
Check out this thematic book list on telling time.
Podcast: Play in new window | Download