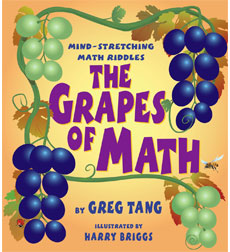 In this podcast, Jamie Malone introduces listeners to the book The Grapes of Math by Greg Tang.
Introduction
Greg Tang is an extremely creative author of interesting books for young math students. In his New York Times bestselling book, The Grapes of Math, he uses unique riddles and methods for students to solve math problems. He encourages students to approach math problems in different ways, rather than placing an emphasis on simple memorization skills. Tang is a brilliant author, and this book does a wonderful job of helping students to group numbers and solve word problems.
Related Books
Mathterpieces by Greg Tang
More Information
Learn more about the author and see some sample pages from his books.
Try this pattern search lesson plan using examples from the book.
Read this interview with the author.
Podcast: Play in new window | Download