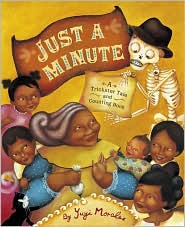 In this podcast, Laura Bradlee introduces listeners to the book Just A Minute: A Trickster Tale and Counting Book by Yuyi Morales.
Introduction
Yuyi Morales' book, Just A Minute is a clever tale that would be especially useful for students in Kindergarten and 1st grade that are either just beginning or are in the process of developing the concepts of number sense and counting. The cross-cultural nature of the book makes it a great choice to read in the classroom and can be used to encourage students to think about, accept and appreciate cultural differences. The book also provides opportunity to practice writing numerals and counting from one to ten in both English and Spanish. The bright, colorful illustrations bring this story to life and the ending is sure to please audiences of all ages.
Related Book
We All Went on Safari: A Counting Journey Through Tanzania by Laurie Krebs
More Information
You can read a review of Morales' book at PaperTigers.org.
You can learn more about the author at her web site.
Listen here to learn how to pronounce the author's name.
Podcast: Play in new window | Download