How Food and Beverage Companies Are Using Supply Chain Design
For food and beverage companies, time is everything. That being said, any company that is able to design a supply chain that improves speed and efficiency gains a competitive advantage in the market. One way companies have been doing this is through modeling. For example, in the picture that follows, this specific company has mapped out the service time to different geographic regions that are defined by the shaded areas. The power of modeling allows this service-area map to be reduced down to the street-level details: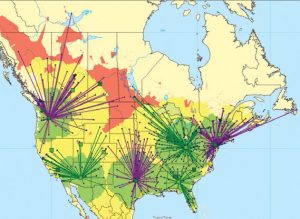 Another problem that food and beverage companies face is the classic "make vs. buy" challenge. Taking into account the current supply chain design, a company must determine whether it should produce a new product in its own facility or contract this production to another company. As we have learned in class, this requires the company to forecast 3, 5, or even 10 years into the future and examine how much the two different projects would differ on costs and plausibility. When designing a new supply chain, a company must consider if they have future plans on expansion as well. Not only does it take a great deal of analysis when considering an addition to a company, it takes even more when creating the initial design as it must support the company as it grows and expands.
As was mentioned earlier, the ultimate goal of food and beverage companies in particular is speed and efficiency because fresh food is the number one priority. Unlike other companies that might simply face backlash and complaints from a customer if a product is late, some food and beverage companies have to deal with products that have limited shelf lives. Not only will the customer be upset because an order in late, but they might also not be able to put the product on the shelves at all. Therefore, it is vital that these companies can predict inventory levels, service rates, and any site capacity restraints that they might have in order to maximize their supply chain. As we have seen in class, this can be a tall task that requires a great deal of experience in the company as well as an understanding of market trends to be able to accurately predict all these variables. Luckily, firms can also utilize supply chain simulation to aid in the decision-making process. Using this method produces a graph that looks similar to the one that follows:
Finally, it is important for companies to constantly analyze its own supply chain to spot inefficiencies and opportunities to eliminate non-profitable aspects of the supply chain. Continuing with the food and beverage example, it could be parts of the geographical market that would be better served by contracting out shipping, manufacturing, or any part of the supply chain. Also, as in the example that follows, it might be best for a company to focus its resources on fewer locations. In the following picture, the lines represent optimized customer lanes. Green lines are profitable and red lines are not: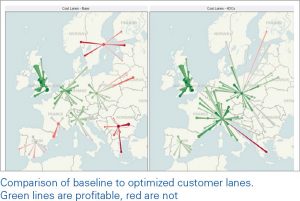 Supply chain design requires constant monitoring and a high level of expertise to be successful. Can you think of another industry where supply chain design is vital to the success of the firm? Or is there a specific example that comes to mind when you think of successful supply chain design?
For further reading, please refer to the two articles I used when writing this post: