Integrated Business Planning
Often times, there are problems that arise between the financial and supply chain operations. This can be due to many factors. Some of those can be due to different ideas on forecasts and budgetary problems. The corporate budget often becomes something that supply chain managers want to extend as much as possible while the financial process managers want to keep costs as low as possible. Enter: integrated business planning. Integrated business planning should be what solves the issues that arise between the finance departments and supply chain processing departments.
Integrated business planning, also referred to as advanced S&OP, is a strategic plan that "extends the principles of S&OP throughout the supply chain, product and customer portfolios, customer demand and strategic planning, to deliver one seamless management process" (Cheater, 2018). It is the future of business models, because it is a more inclusive and collaborative planning process in which everyone works together to discuss the exact needs and budgets of the firm. You can read more about it at the first link below, which is from a recent blog speaking about the newest findings about this revolutionary process.
It is a difficult concept to understand. It is hard to realize exactly how many moving parts there are to a business. There is marketing, R&D, pricing, planning, and more. To better understand what IBP is, it is attached in a YouTube link at the bottom, which takes you through the basics of integrated business planning. It also asks pertinent questions. These questions include things like what is happening right now, what is going to happen, and what to do about it?
Another thing that integrated business planning does is enable greater flexibility and improve timing. It allows budgeting and forecasting to be more accurate when the company works as a whole. Another very informational video that I have found on this new and improved form of sales and operations planning is also attached at the bottom. It discusses many areas of this. Following with the difficulties of connecting the financial aspects with the strategy aspects, it talks about the specific parts that each sector is trying to perfect. Here is a photo of that part of the video: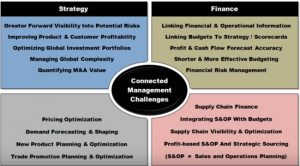 It also goes on to discuss the exact reason that integrated business planning does this, and to discuss the differences between regular S&OP and the actual IBP. A graphic of that part of the video is also here below. It encompasses all the different moving parts to this cyclical work engine that is integrated business planning. While regular S&OP does not have all this, IBP includes a myriad of ways in which the company needs to follow that function. Here is that image below: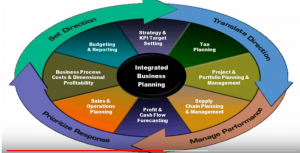 Both the finance and supply chain process managers in a firm have their own goals. Finance is very focused on the bottom line while supply chain professional are trying to get their products to their customers as fast as possible while still turning a profit. Even though it is not easy to implement these integrated processes, and they can become complex, it is pertinent to keep moving forward with conducting a harmonious business where every one in the firm is on the same page, and they have similar goals. Both the finance department and the supply chain professionals in the firm must create realistic and sensible projections. If the firm can master this special skill, they will have a much higher chance of being profitable.
Finance and supply chain operations: Can IBP bridge the gap?
https://www.youtube.com/watch?v=I_mRXrDrPDM
https://www.youtube.com/watch?v=p9bpSoovUFI