Whataburger: The "Better Burger" Process Strategy
If you have ever been to Texas, you have probably seen more than one oddly-shaped building with a pointed roof, painted in orange and white stripes.  This unique style is the typical Whataburger location, a fast-casual burger chain that is extremely popular in Texas and other southern states.  The unique design of Whataburger's restaurants is just one of the many things the company uses to stand out from other competitors in the fast-casual industry.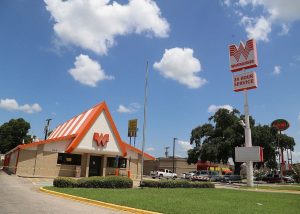 Whataburger's process strategy is similar to many other fast-casual burger companies with one big exception.  In terms of quality, Whataburger excels in both consistency and degree of quality.  Whataburger's direct competition, fast food giants like McDonalds and Burger King, specialize in the consistency of quality, achieved through implementing a standardized process that eliminates variations.  Whataburger has established a cult-like following in Texas because it has created and maintained a strategy that successfully delivers burgers to its loyal customers that meet expectations on quality consistency and exceed expectations on degree of quality.  This process strategy, along with successful marketing campaigns that depict Whataburger as the burger of Texas, have caused sales to grow exponentially since its humble beginnings in Corpus Christi, Texas in 1950.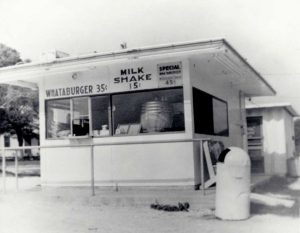 Whataburger is now the United States' most popular "better burger" chain.  In the first quarter of 2017, the successful Texas chain accounted for 44% of the transactions in a study of the largest fast-casual burger chains in America, with In-N-Out coming in second place with 26% of transactions, and Five Guys at receiving 12%.
http://www.businessinsider.com/whataburger-most-popular-better-burger-chain-2017-6
Whataburger's success is due largely to their successful implementation of this process strategy that focuses on excellence in both consistency and degree of quality.  However, Whataburger's strategic marketing techniques that position the company as "wholesome" and "Texan" are also a huge part of Whataburger's success.  The average customer frequents Whataburger 4 times in three months.  Compare that to In-N-Out's statistic of 2.2 visits per 3 months and Five Guy's 1.6 visits.  Whataburger customers are extremely loyal to the Whataburger brand and come back more frequently than customers of any other fast-casual burger chain.  Considering these figures, it is easy to see why Whataburger's sales have continued to grow and why it is now the most popular "better burger" chain by a long shot.  This article goes into more depth on the crazy loyalty that Whataburger customers exhibit.
https://www.bonappetit.com/restaurants-travel/article/whataburger-history-texas
Whataburger's process strategy is not solely defined by the aspect of quality.  The prices it offers are somewhere in the middle between McDonalds low prices of $3 and a typical dine-in restaurant burger of $8.  Low costs are not one of Whataburger's competitive priorities, but flexibility definitely is.  Another reason why Whataburger customers are so crazy about this burger chain is that every burger is highly customizable.  Their slogan "Just Like You Like It" embodies this competitive priority of flexibility.  Finally, a fast delivery time is something that all fast-casual burger chains try to achieve, and Whataburger is no exception.
As you have probably guessed, I am a huge Whataburger fan, and I can't wait to go home over spring break and order my usual double meat, double cheese, no onion, jalepeno, and BBQ sauce Whataburger!