Lean systems and Six Sigma have had so much success in the manufacturing and service that many people are considering their usefulness in other areas, such as sports. Using in-depth statistics is not an entirely new concept, as seen in the Major League Baseball organization, the Oakland A's. The used non-traditional measurements to compete with teams that had much higher salaries. The story of the Oakland A's was made famous in the book and movie Moneyball.
As we have learned, the steps in Six Sigma are define, measure, analyze, improve and control. This roadmap could be very helpful to sports teams because it would force a more specific review of errors and areas for improvement. As one article points out, one strength of Six Sigma is its scalability, which is applicable to sports because the data can be about one player or scaled up to the entire team.
Another important aspect for athletes is the idea of continuous improvement. As the previously mentioned article says, "One of the most common mistakes made by professional players is to become complacent with their current skills, not realizing when everyone manages to sweep past them because they have not been striving for improvement." Football is a great example of a sport that would benefit greatly from Six Sigma because of the amount of statistics that can be recorded for each position. The following chart is an example of how the blocking abilities of defensive linemen would translate into raw data that could be used to improve: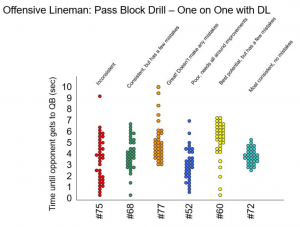 After analyzing the data, the team and players now have a clear picture of the key issues. From here, they must improve and be sure to continuously improve throughout the season. The rest of this article, which provides additional examples of how Six Sigma can be applied in football, can be found by clicking here.
These Six Sigma techniques have been used in sports before, however they have not yet hit the mainstream. One example is an organization that evaluates high school football kickers, punters and long snappers. They examine the athletes' accuracy from all over the field, which gives college recruiters a better idea of the athlete before they try to bring them to their college program. Another great example is tennis professional Steven Falk, who wrote a book titled, "Six Sigma Tennis." In his book, he outlined how he used Six Sigma to train players to their maximum potential ability. In tennis, there are many ways to analyze the performance of the player based on forehand or backhand, returning serves or even getting his or her first serve in the court. I highly recommend taking a look at the rest of this article as it outlines other practical uses for Six Sigma in sports. This website is from the UK, so it is no surprise it discusses Six Sigma in tennis, soccer, rugby, snooker and darts.
Six Sigma in sports is a fascinating subject and seems to have many practical applications. Do you see a future for Six Sigma in sports? Have you heard of Six Sigma already implemented in any other organizations? Is Six Sigma in sports even practical? If you are interested in Six Sigma in sports, I recommend reading one other short article that can be found here, in addition to the two already mentioned in the blog post.