Sony's Commitment to Quality and Services
The chapter on Quality and Performance in the textbook introduces first to one of the largest multimedia retailers in the world, QVC Inc. which stands for Quality, Value, and Convenience. QVC's processes all work together to deliver outstanding quality and service to its customers and through this focus, QVC's revenues exceeded $8.6 billion in 2013. Quality and service are top focuses in many companies. What I want to focus on is Sony Inc. Sony is a Japanese multinational conglomerate and its businesses include consumer and professional electronics, gaming, entertainment and financial services. Sony's CSR (corporate social responsibility) report provides us insight on the value they place on quality. Here's a quote directly taken from their website on CSR, "Sony's corporate social responsibility (CSR) activities reflect our ongoing commitment to innovation and sound business practices and to creating products, services and content that excite and inspire audiences worldwide." Sony has seven key CSR areas of focus and one of them is Quality and Services.
Total quality management (TQM) is a philosophy that stresses three principles for achieving high levels of process performance and quality. These principles are related to (1) customer satisfaction, (2) employee involvement, and (3) continuous improvement. Sony hits all of these principles in their report. The following is a diagram of Sony's Quality Management System.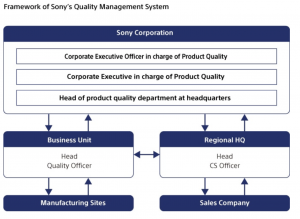 Customer Satisfaction
Customers are satisfied when their expectations regarding a service or product have been satisfied. According to the report, "Sony makes active use customer feedback to improve its products and customer services." The feedback received is handled by Sony Customer Information Centers and is thoroughly analyzed. This information is transferred to the planning, design, and product quality groups to improve product quality and performance. Sony goes above and beyond to provide the best quality and service which leads to customer satisfaction. In 2003, the company implemented a Quality Hotline to gather information and complaints on products which will be used to improve processes or products. These processes reflect the Sony Pledge of Quality, "Sony employees will always respect our customers' viewpoints in striving to deliver product quality and customer service that exceed their expectations." The following is a diagram of the process.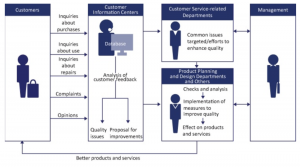 Employee Involvement
A program in employee involvement includes changing organizational culture and encouraging teamwork. According to the textbook, "one of the main challenges in developing the proper culture for TQM is to define customer for each employee. Sony provides various type of training for its employees which further supports their commitment to providing high-quality service to customers around the world. In TQM, everyone in the organization should know that quality control is important. At Sony, employees are trained to help customers get the greatest possible enjoyment from their Sony products.
Continuous Improvement
This is the philosophy of continually seeking ways to improve processes and this is exemplified from this statement, "In addition to continuously improving product quality, Sony is taking various steps to improve its responsiveness and its customer service capabilities." This is in line with their pledge of quality. Sony tailors its support to the always changing world which requires constant innovation and improvement They provide support through live internet chat sessions, social media, and online community forums as well as conduct surveys on customer satisfaction and makes improvements based on survey results to continually improve satisfaction.
Do you think Sony is a good example of TQM? Have you ever experienced Sony's exceptional customer service?
Sources:
https://www.sony.net/SonyInfo/csr_report/quality/