Food Quality & Quality Circles
Quality is a term that is used by customers to describe their general satisfaction with a product or service. Managing the quality of a company's product or service is an important aspect of operations management, as it helps improve process performance.
When examining quality variation, there are two causes: common and assignable. Common causes are purely random and typically unidentifiable, while assignable causes are identifiable and meant to be fixed/eliminated. In an OR Spectrum article, Akkerman, Farahani, and Grunow analyze food quality, among other things, in food distribution.
The type and quality of food distribution method can easily affect the quality of the food. Food not staying cold or frozen to prevent spoiling and bacteria is an assignable cause. This is because new technological developments have been made to improve temperature control and monitoring. The cause of bacteria and food spoiling was assigned to the temperature issue, which has now been identified and can be fixed. This, in turn, can help the process stay in control and maintain capability.
Because quality management is so important, some companies have even developed Quality Circles. According to Analyzing Operations in Business: Issues, Tools, and Techniques by Michael Summers, quality circles are "a group of workers that meet regularly for the purpose of suggesting ways to improve quality" and eliminate assigned causes. These workers are trained in group decision making and were allowed to collect data for their own use. It is important to note that superiors are not a part of this circle, but rather, they are given the information, data, and recommendations from the circle. This has been said to have helped motivate workers and generate useful ideas for process and quality improvement. The implementation of a quality circle was made popular in Japan, and often has mixed results in the United States as mid-level managers do not take the recommendations of their subordinates.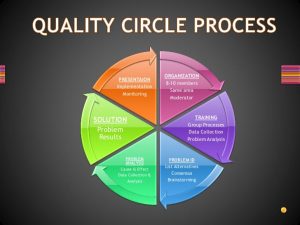 Once these issues are identified and recommendations are made, it becomes of little value to keep the quality circles around. Do you think a quality circle is something companies should have in their business? If so, what type of business? Is it more sustainable to have a quality circle that only meets once or twice a year?
Sources:
https://link.springer.com/content/pdf/10.1007%2Fs00291-010-0223-2.pdf
slide share – Kailas Sree Chandran, Assistant Professor at Mohandas College of Engineering & Technology
https://books.google.com/books?id=1xv9Rxtl2JIC&pg=PA195&lpg=PA195&dq=what+happens+when+companies+don%27t+have+money+to+fix+assignable+causes&source=bl&ots=fs8MvgTI_d&sig=hZHjQvA7nm8E6UAmCfM-aDiGETU&hl=en&sa=X&ved=0ahUKEwjZufSEmaPZAhWB2VMKHbiyAW0Q6AEIKjAA#v=onepage&q&f=false (pages 197-198)