Airbus and Boeing Manage Excessive Slack Time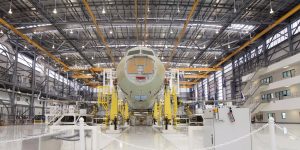 Airbus and Boeing delivered a record breaking number of aircraft last year, citing improved supply chain management, according to the Wall Street Journal. Airbus managed to pump out 718 planes last year, a full 30 more aircraft than their previous record, which was in 2016. Despite this shift in pace, Airbus states that they were 200 aircraft short of their target for the year due to lingering engine supply issues. By year end, Airbus had accumulated nearly 30 aircraft waiting on engine delivery, taking up valuable space on the production floor.
Boeing cited similar issues, and it is clear that neither aircraft manufacturer can keep up with demand. The two firms had a total of 13,129 backlogged aircraft poised for production. At current rates, it would take 9 years of production to fulfill these orders. Last year, the companies acknowledged their inability to fulfill orders and promised to make adjustments, re-tooling factories and increasing oversight on suppliers. Since then, the suppliers have shown improvement as they have combined to add scale and gain the financial leverage to expand production capacity.
In terms of producing aircraft, operators have an immense task of managing the project. Each aircraft produced is a brand new project, built on a strict timeline. However, this timeline is heavily dependent on the suppliers, since nearly all of the interior parts, electronics, and engines are outsourced. Because of this outsourcing, crashing the project is a difficult and often unfeasible option. This significantly increases the importance of supply chain management in terms of matching the needs of the customers. In 2016, Airbus drew attention when it had 5 completely finished and painted aircraft lined up outside of their facility waiting for engines. This is an example of significant slack time, and customers noticed it. A few weeks later, Qatar Airlines cancelled an order with Airbus, after they failed they to deliver even a single plane despite the contract promising five by that time.
In the cases of these aircraft manufacturers, it is clear that their critical path lays by way of the suppliers. The manufacturers have already faced an abundance of indirect costs from cancelled orders and loss of stock value. If the suppliers can effectively improve their processes, it would greatly reduce the slack time that airline manufacturers face.
Original Article:
https://www.wsj.com/articles/airbus-delivers-record-718-aircraft-in-2017-beating-expectations-1516003411?mod=searchresults&page=2&pos=19
Supplementary Readings:
https://www.wsj.com/articles/where-are-the-toilets-order-glut-stretches-giant-jet-makers-to-limit-1487885428
https://www.wsj.com/articles/qatar-airways-walks-away-from-airbus-a320neo-deal-over-delays-1464954847