Allbirds' Unique Supply Chain Developments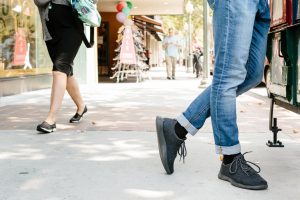 Do you have a pair of Allbirds?
Allbirds are certainly the new "thing." It seems like almost everybody on campus is wearing them. Walking through the Business School, one will certainly pass by another student wearing the trendy pair of shoes.
Allbird, despite being a young start-up, has gained valuable traction quickly from Silicon Valley all the way to Richmond, Virginia. Within the last year, the company has raised $9.95 million in their mission for growth and more market share. Larry Page, Google's co-founder, and Dick Costolo, Twitter's CEO, have been found wearing the new comfortable shoes. The $80 billion dollar shoe industry is a tough one to crack into, and it is certainly hard to become a big player; Allbirds founders Joey Zwillinger and Tim Brown have created a unique supply chain that has thus far proven to be successful. Location is a key element in the chain's success.
After a professional sports career, New Zealand native Tim Brown accidentally stubbled into the footwear business. He was in search of a simple, classic sneaker without any logos or signs on it. When he could not find a pair of his liking, he decided to create his own. Since he grew up in New Zealand, where the supply of sheep and wool are practically endless, Brown came up with the idea to make a shoe out of wool. Testing his simple design and sustainable materials, Brown initiated a Kickstarter campaign in March of 2014; he sold $120,000 worth of shoes in just four days! He realized that he needed help in building his business, so he teamed up with engineer and renewables expert Joey Zwillinger to create the unique supply chain.
Now, Allbirds has two brick and mortar stores in San Francisco and New York. However, they work with 350 contractors in South Korea. In addition, they have 40 employees in a warehouse in Nashville. The firm's woolen textiles are created outside of Milan. Not to mention, the start-up works with Red Antler, a Brooklyn-based consulting firm. Allbirds certainly has a global supply chain.
Despite having a number of different facilities world-wide, the majority of Allbirds sales come from their e-commerce business. When I was first introduced to the shoe company, my friend said that you could only purchase a pair online. Therefore, I ordered a pair on the internet, and I had perfect order fulfillment. The company made the process so easy and efficient that I was encouraged to order a second pair.
Though official plans have not been announced yet, the leaders of the firm hope to grow Allbirds' retail footprint; they want to have more brick and mortar supply chain facilities. Is Allbirds just a "fad" though? Will the company continue to grow, or will the shoes simply go out of style in a couple of months or so?
Should the start-up allocate money in planning and developing new supply chain locations, or should they focus more on their e-commerce business? Would investing in more locations hurt the firm's growth, or could it help the company avoid being a "craze?"
To read more about the start-up's story, please read the link below: