---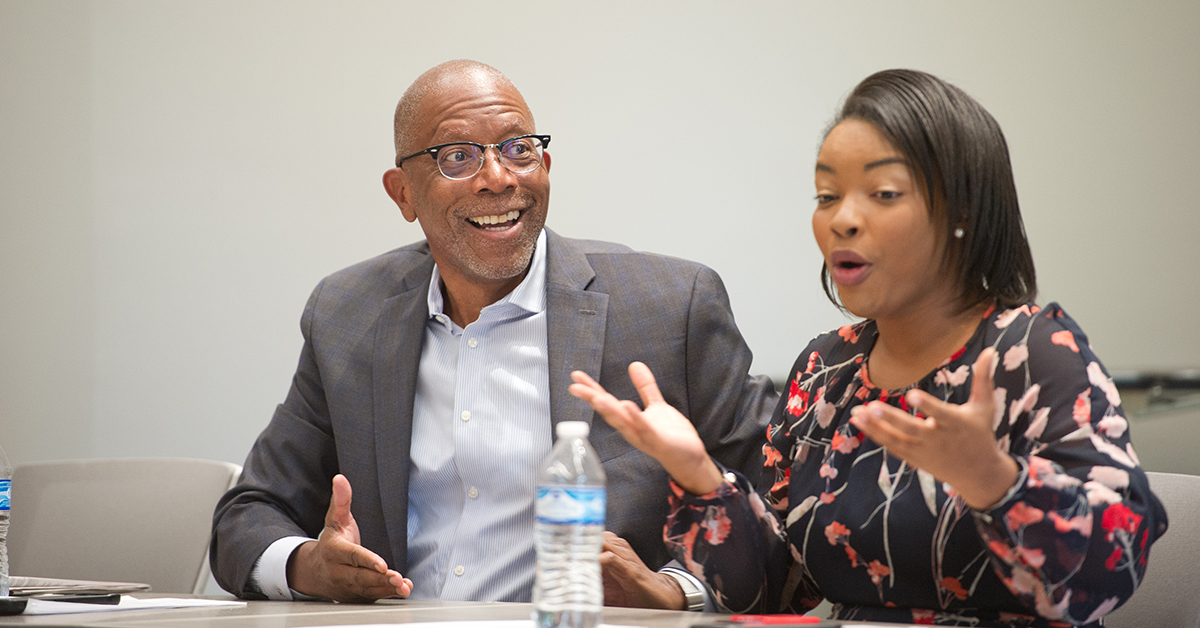 At the Jepson School of Leadership Studies, we proudly declare that we teach for and about leadership. Our signature Leader-in-Residence Program accomplishes both of these goals. Leaders from all walks of life visit the School to discuss their experiences and challenges and engage with our students in the classroom and in small and large group settings.
Past leaders-in-residence have included Dr. Vivian Pinn, senior scientist emerita at the National Institutes of Health and the only woman and African American in her 1967 University of Virginia School of Medicine class; Leland Melvin, retired astronaut and former NFL player; and U.S. Senator Tim Kaine.
This year, two leaders in the field of journalism are serving as the School's leaders-in-residence.
Ayesha Rascoe is a White House reporter for National Public Radio. She covers breaking news and policy developments from the White House and travels and reports on many of President Donald Trump's foreign trips, including his 2018 summit with Russian president Vladimir Putin in Helsinki. As a member of the White House team, she is a regular on the NPR Politics Podcast.
Prior to joining NPR, Rascoe covered the White House for Reuters, chronicling President Barack Obama's final year in office and the beginning days of the Trump administration. She also covered energy and environmental policy news, such as the 2010 BP oil spill and the U.S. response to the Fukushima nuclear crisis in 2011.
Joining Rascoe is Michael Paul Williams, a Richmond Times-Dispatch columnist, who provides a glimpse into journalism at the local level. A graduate of Virginia Union University and Northwestern University, he won Virginia Press Association awards for column writing in 1992, 1994, 2007, and 2014. During 1999-2000, he was one of a dozen U.S. journalists awarded a Nieman Fellowship at Harvard University.
The Virginia Pro Chapter of the Society for Professional Journalists recognized Williams with the 2010 George Mason Award for outstanding contributions to Virginia journalism. He has also received a 2012 Humanitarian Award from the Virginia Center for Inclusive Communities and the 2014 Will Rogers Humanitarian Award from the National Society of Newspaper Columnists.
Yesterday, Rascoe and Williams were on campus for classroom visits and a lunchtime discussion. Not surprisingly, the conversation among students, faculty, staff, and our leaders-in-residence was lively and far-reaching. Questions ranged from the ethics of journalistic integrity to the difficulty of interviewing and obtaining facts without becoming too close to one's sources.
Particularly fascinating was the discussion about the connection between leadership and journalism. Rascoe and Williams agreed that there is a central role for journalists in holding leaders, whether local or national, accountable. While some have questioned the objectivity of journalists recently, Rascoe remarked that important stories, such as that about Jeffrey Epstein, broke this year as a result of investigative reporting by mainstream journalists. Williams remarked that, having come of age in the Watergate era, holding leaders accountable has always been a powerful motivational force.
Please join us January 29 when our leaders-in-residence participate in the moderated panel discussion, "Leading with Truth: Journalism as a Catalyst for Social Change." Continue to check our website for event information.
Journalism as a means to accountable leadership