---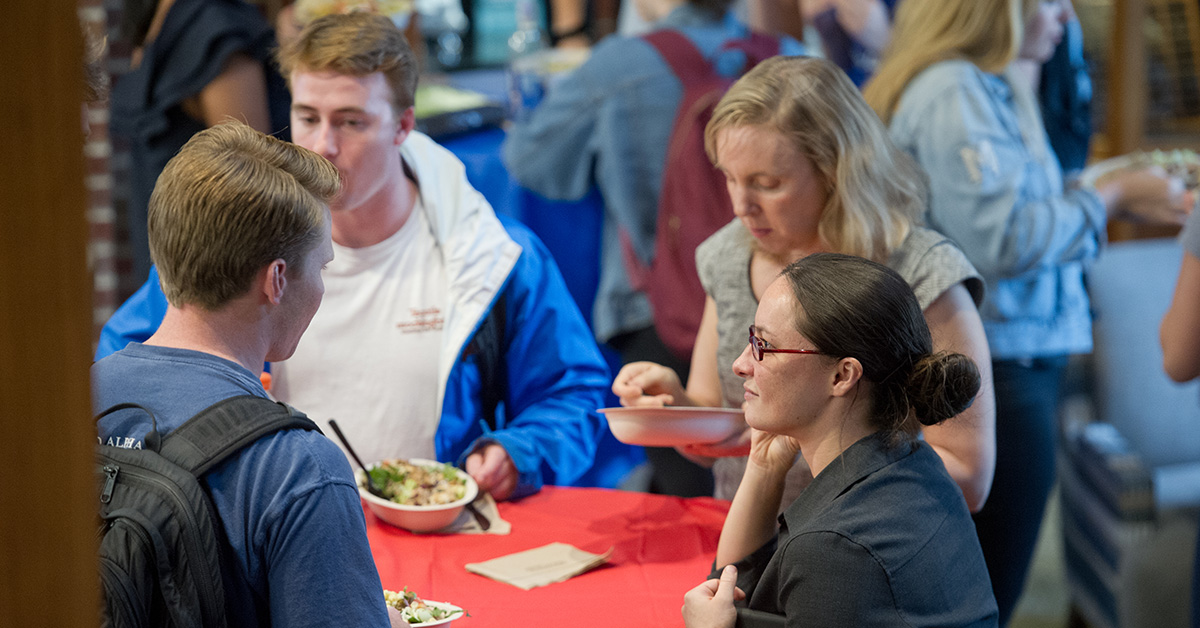 I always enjoy the Jepson Student Government Association (JSGA) Welcome-Back Fiesta and, despite the move indoors due to the approach of Hurricane Dorian, last week's event was no exception. It was wonderful to see students sharing a meal and conversation with Drs. Kerstin Soderlund (whose leadership for the event I much appreciate), Thad Williamson, Javier Hidalgo, Don Forsyth, Marilie Coetsee, Al Goethals, Crystal Hoyt, Chris von Rueden, and Jess Flanigan, as well as with staff members Michele Bedsaul, Linda Trent, Stephanie Trent, and Cassie Price.
This year, I spent time at the fiesta speaking with students about their advice for new Jepson and University of Richmond students. They shared practical and perceptive insights. I was impressed, but not surprised, by their wisdom. Below are the main pieces of advice I gleaned.
Sample widely, try different Jepson professors and classes. I heard this more than once, as current students encouraged prospective students to take advantage of the array of courses offered by Jepson School faculty, with disciplinary specializations ranging from social psychology to economics and anthropology. Several students also remarked that it is important to let faculty know early on if you face unusual challenges of any sort. "Jepson professors were students, once, too," I heard, and, since the School is a real community, "they will know about you even before you know about them."
Do and enjoy the readings. Several students talked about the importance of planning your week and semester so that you are able to read and digest the assignments, which may require significant time commitments, before class. One student remarked on the need to give yourself enough time "to enjoy"" the readings, as opposed to rushing through them.
Challenge your professors and fellow students. I was pleased to learn that Jepson students are encouraged to think for themselves and have the confidence to speak up to avoid neglecting a crucial perspective. Returning students told incoming students to challenge and learn from each other, in the classroom and beyond.
Take time for yourself. When I asked students what advice they have to reduce stress, all recognized that most of us are overscheduled and overcommitted. Several said they wished they had taken on fewer commitments as first-years students, leaving room to add new interests and experiences over the next three years. All reminded me that it is easier to add new activities when there is space to do so, than it is to withdraw from existing commitments in order to try something new. All insisted that it is important, when invited to an activity, to say no sometimes!
Use the student lounge. The Jepson School has a wonderful study space, equipped with a printer. Current students urged new students to use it!
Welcome-Back Fiesta: Advice to new leadership studies students