---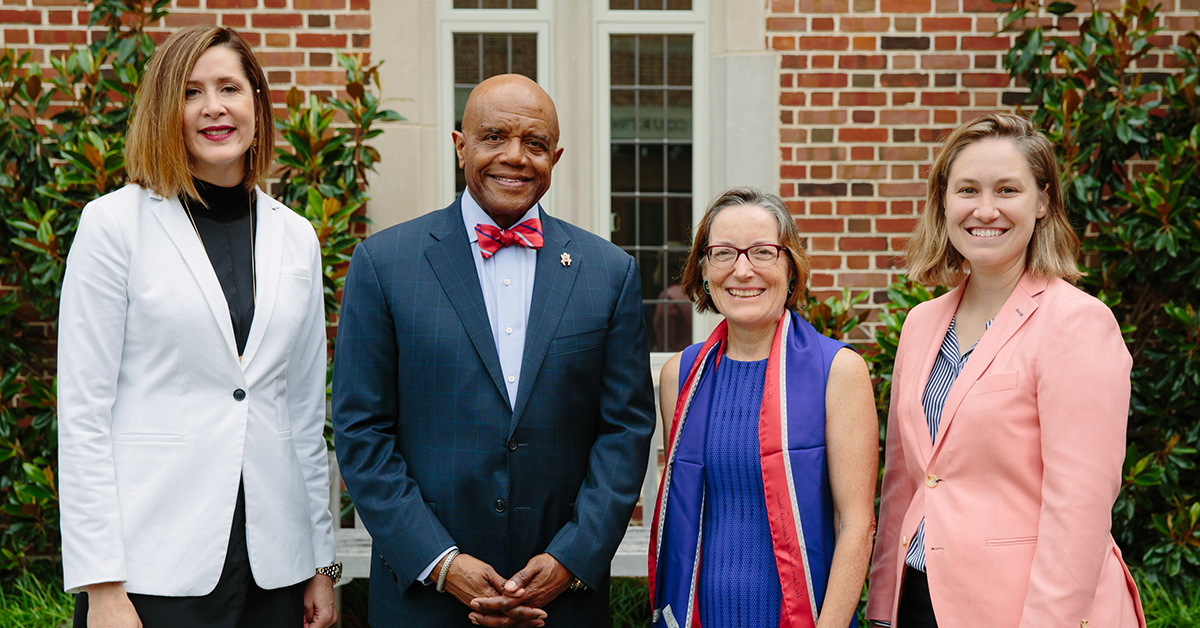 University of Richmond's Reunion Weekend is now behind us. It is one of my favorite events, a time to reconnect with good friends and colleagues and honor some of our incredible alumni. This year, I was delighted to honor two Jepson School of Leadership Studies alumnae at the President's Breakfast and Alumni Awards Presentation, attended by some of the University's most distinguished alumni, including Robert S. Jepson Jr., B'64, GB'75, H'87, and Alice Andrews Jepson.
Each year, the Jepson School faculty recognize alumni whose personal and professional accomplishments reflect the School's mission to advance the understanding of leadership and the challenges of ethical and effective engagement in society. Most interestingly, this year's awardees both exercise their leadership skills in service to individuals suffering emotional and psychological crises.
Dr. Stephanie Eken Sander, a board-certified child and adolescent psychiatrist, adult psychiatrist, and pediatrician, was honored with the School's Alumni Award. A 1997 graduate of the Jepson School, Stephanie currently serves as the regional medical director of the partial hospitalization and intensive outpatient programs for Rogers Behavioral Health, a not-for-profit provider of mental health and addiction treatment with locations in seven states. Stephanie is a sought-after lecturer and recipient of several national psychiatry and mental health awards. She brings a blend of leadership and medical best practices to her clinical work in OCD, depression, anxiety, and eating disorders.
In her remarks at the recognition breakfast, Stephanie spoke eloquently about how grateful she is for key mentors who invested in her leadership education. She spoke about the influence of the late Dr. Richard Couto, a much-beloved professor at the Jepson School for many years before I arrived at the School.
It was also my privilege to present this year's Tenth-Year Reunion Recognition Award to Dr. Paige Wigginton, a 2009 graduate of the Jepson School. During her undergraduate years at the University of Richmond, Paige created a college-access mentoring program for under-served city of Richmond high school students. She explored leadership theories in the context of higher education in her Jepson course Leadership and the Future of Higher Education. After graduating from UR, she obtained her master's and doctorate degrees in higher education at the University of Pennsylvania.
Paige has worked at Penn for the past nine years, most recently as the Associate Director of Special Services. She provides critical support 24/7 to Penn's 25,000 students for a myriad of crises and emergencies, ranging from substance abuse to sexual assault, domestic violence, mental health, and family issues. Those of us who work in higher education know firsthand that such issues are increasingly significant on college campuses today.
Paige also spoke about her mentors at the Jepson School, including Dr. Crystal Hoyt, with whom she studied in three different classes!
In short, Stephanie and Paige exercise leadership every day by advancing mental health treatment and trauma advocacy. Both are most deserving of the Jepson School's alumni recognition awards.
Photo: left to right, Jepson School Alumni Award recipient Stephanie Eken Sander, UR President Ronald A. Crutcher, Jepson School Dean Sandra Peart, Jepson School Tenth-Year Reunion Recognition Award recipient Paige Wigginton
Celebrating Jepson's leaders at Reunion Weekend