---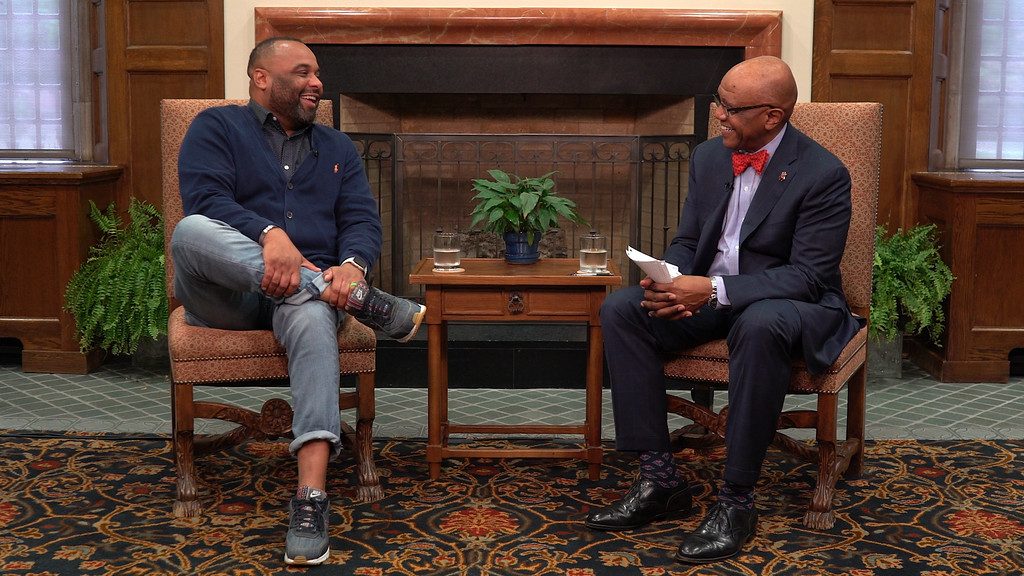 "There is no such thing as the good old days." This was perhaps the most striking remark at the recent University of Richmond alumni event in Washington, D.C. A conversation between President Ronald Crutcher and Dr. Julian Hayter of the Jepson School of Leadership Studies focused on how much the University has changed recently and the next steps we need to take.
The event provided an opportunity to thank our alumni for their service to the University. Before Dr. Crutcher recognized volunteers who serve the University in many capacities, however, he engaged Dr. Hayter in a wide-ranging conversation that was, in essence, about leading change. They focused on how best to foster a thriving, inclusive community at the University. This has become a theme at many universities in recent years and is one of the five pillars of the University of Richmond's Strategic Plan.
Those who know the Jepson School curriculum will not be surprised to learn that Dr. Hayter focused on the difficult conversations that transpire while learning about leadership. Our curriculum suggests these conversations are helpful and necessary to the learning that occurs in the leadership studies classroom. Students need to develop the ability to question and talk through ideas even when the positions represented are challenging and unsettling.
Our students frequently have such conversations in the classroom, whether in Justice and Civil Society, Theories and Models of Leadership, or Leading Change. Our professors strive to create spaces where students offer experiences and discuss readings that represent divergent views of leadership and the ethical challenges leaders face. In this way, professors create room for students to think through specific leadership challenges of the past and present.
President Crutcher and Dr. Hayter spoke along similar lines. As a historian, Dr. Hayter drew upon his vast knowledge of the recent past in and around Richmond, Va., to suggest that people have struggled with difference throughout human history and are now dealing with recent change and events, what Dr. Hayter refers to as proximity. This prompted his remark: "There is no such thing as the good old days." In the continuing struggle, he opined, the classroom is a laboratory for students to interrogate the past. As long as the conversation is conducted with a spirit of intellectual growth, robust learning is the outcome.
No conversation of this sort would be complete without at least a brief discussion of the monuments in Richmond. Accordingly, President Crutcher invited Dr. Hayter to reflect on his work for the Mayor's Commission. Dr. Hayter summarized the position he had outlined on 60 Minutes and remarked on the support the Jepson School afforded him in that conversation. The School puts into practice the lessons we teach our students!
Leading change: A conversation between President Crutcher and Dr. Hayter