---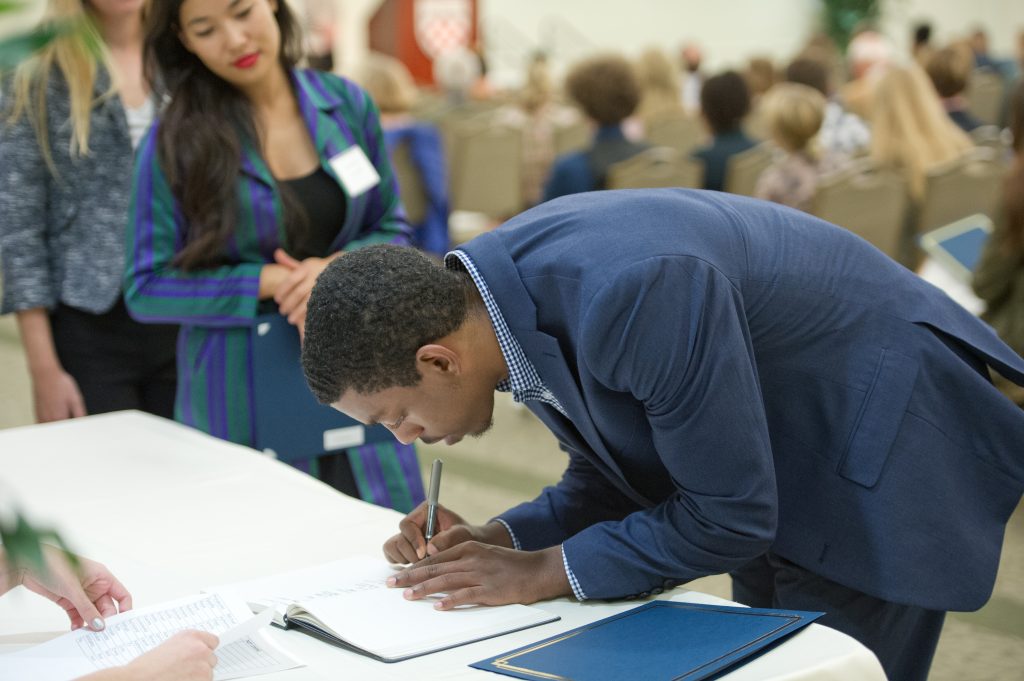 Prelude. This event is one of my favorites. As anyone who has graduated from the Jepson School knows, our faculty, staff, and current students warmly welcome new students to our community during this ceremony. Following the formal induction, students sign the Jepson School book of record, and we all enjoy some relaxed time and conversation.
On Monday, Nov. 5, the Jepson School faculty inducted 94 new students into the School. Prelude, always a hopeful event filled with promise, was even more so this year, as the ceremony immediately preceded the national elections. Our inductees included 11 Science Leadership Scholars, who entered a program begun several years ago to connect work in leadership with that in the sciences. The incoming class is the most diverse we have seen in years. About 28 percent of the newly inducted class self-identified as persons of color and/or first-generation students. This represents a marked increase over last year and is the culmination of some excellent analysis and work by the faculty and administration of the School.
For years, the Jepson School has attracted relatively few underrepresented students in their first semester at the University of Richmond. This is a result of the unusual nature of the School. Guidance counselors and families do not always recognize what we do at Jepson. (We hope to address this gap with our Jepson Initiative aimed at raising our profile. Please support it!) This creates an unusual hurdle for us: As our alumni know, what sets us apart is that students apply to the School in the fall of their sophomore year and they must have taken at least one of our two intro classes before they apply.
We believe it is important for students from all socio-economic and ethnic backgrounds to see themselves as potential leaders. Therefore, we worked with students who had not declared an interest in the school before they registered for classes, hoping to engage a more diverse group of incoming students. It clearly worked, and we were delighted to see the results on Monday! Dr. Haley Harwell, Michal Johnson, '19, and Joe Moise, '20, welcomed students to our community. Jepson Student Government Association co-presidents Julie Ball and Emma Thomas, both '19, concluded the ceremony with reflections on their time at the Jepson School.
Welcome to the leaders in the Jepson School class of 2021!
Remarks on the incoming Jepson School class — Prelude 2018