---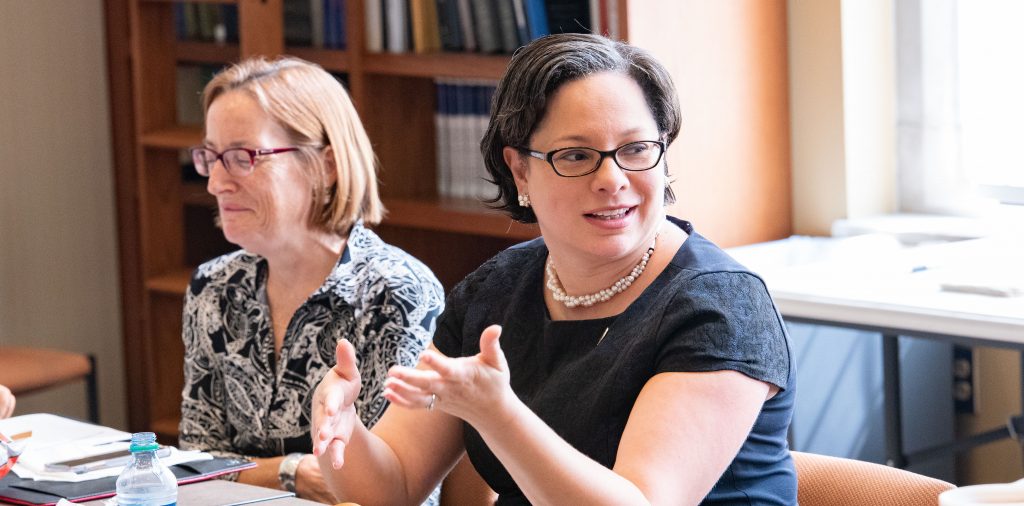 Jepson's commitment to educating students both for and about leadership is one of the School's most intriguing aspects. Even as our scholarship investigates questions of leadership, we're simultaneously educating students for leadership in all organizations. As democratic institutions have been particularly challenged in recent years, the for in our commitment to students has become increasingly important. Last week's visit by State Senator Jennifer McClellan, our 2018–19 leader-in-residence, highlighted one way the Jepson School prepares students for leadership in a changing world and workplace.
Sen. McClellan, a 1994 alumna of the University of Richmond, was elected to the Virginia State Senate in 2017 after having served as a member of the Virginia House of Delegates for 11 years. She chaired Governor McAuliffe's transition team and served on Governor Northam's transition team. Her legislative accomplishments are numerous and demonstrate a consistent and determined effort to bring issues of family, concern for children, and equity to the attention of legislators.
Sen. McClellan took questions from students in Dr. Crystal Hoyt's Leadership in a Diverse Society class before speaking with Jepson students, faculty, and staff over lunch. Our conversation ranged from the legacy of slavery and the Jim Crow era to present challenges and hopes for the future. In Sen. McClellan's view, two of the most significant demands facing leaders of the Commonwealth and our nation include 1) the all-too-present legacy of Jim Crow, lynching, and segregation; and 2) the rapidly changing needs of the population.
Our current laws and systems were developed for a world where work takes place in traditional venues from 9-5. We are in a time of major change. Uber, Airbnb, and other arrangements where workers are independent contractors are dramatically altering the traditional model of work, and we can expect the rate of change to accelerate as we look to the years ahead. How will education, healthcare, and pension plans adjust to these changes, and how will leaders ensure that laws developed in the 1930s or 1960s adapt to new circumstances? Sen. McClellan urged the future leaders at Jepson to probe and explore these challenges.
Sen. McClellan's visit was a reminder of the importance of anticipating the needs of a changing society. I am hopeful that her time with Jepson students will spark renewed interest and, ultimately, solutions. It was also a reminder of how and why we educate students for leadership. The leader-in-residence program has been a hallmark of the Jepson School since the School's founding. By connecting with noted leaders who have real world experience getting the job done, such as Leland Melvin, Leo Thorsness, and Vivian Pinn, Jepson students engage with the practice of leadership in preparation for their future roles.
Leader-in-Residence teaches for and about leadership