---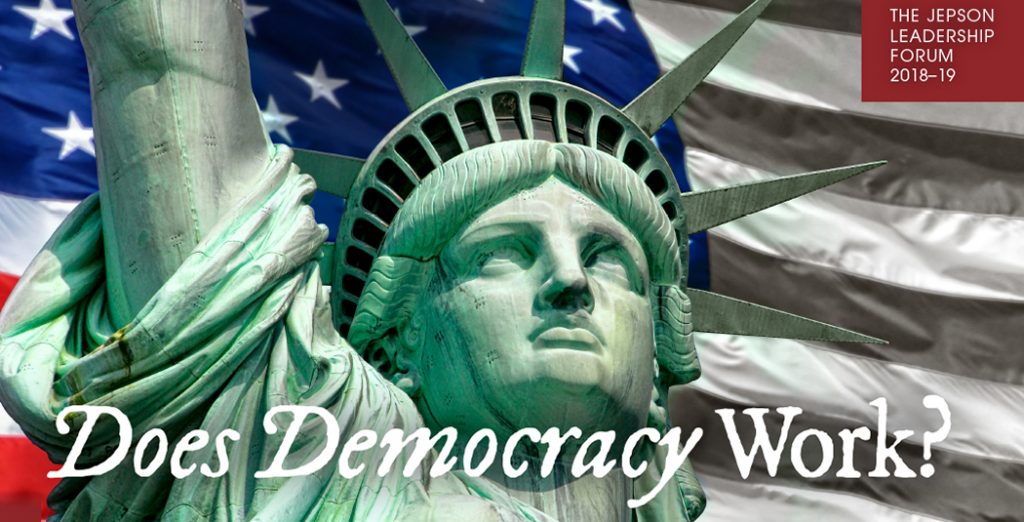 Leadership pundits and scholars alike have remarked that political divides have become more rancorous over the last two decades. Senator John McCain's death is a powerful and moving reminder that we have lost another of the very few remaining leaders who seem able to span political differences and work with people on both sides of the aisle. The Jepson School's Leadership Forum series, "Does Democracy Work?," which kicks off in a few short weeks with a presentation by Richmond Mayor Levar Stoney, invites us to ponder the question of whether leadership via democratic processes is, indeed, broken.
Today's political climate is one of deep division. Yet while I recognize the enormous challenges ahead, I remain hopeful. At the Jepson School, we educate students not only about leadership, but also for leadership. Our students must be prepared to address these seemingly insurmountable divisions and somehow decide the future for us and for generations to come.
In the classroom and beyond, Jepson students learn powerful lessons from the life experiences of leaders-in-residence, such as Dr. Vivian Pinn, the only African American and woman in her class at the University of Virginia School of Medicine; or Col. Leo Thorsness, who, like Sen. McCain, suffered greatly at Hanoi Hilton. Students study, question, and apply theories of leadership to real-world settings. They think deeply about and shape their answers to the question: Leadership, to what end?
In the course of these studies, Jepson School students also learn about the institutions that constrain leadership and decision-making, in particular, democratic decision-making. When they hear from Mayor Stoney in two weeks, they will more fully appreciate the messiness of democracy. Leaders do not get to do everything they want to do! Some would argue that is a good thing since it prevents the headiness of leadership positions from imposing on the people an agenda that they have not endorsed. Amidst this messiness, however, leaders need to respect and work with others, those with whom they agree and, perhaps especially, those who do not agree with them. My hope is that the Jepson School education will yield (and has yielded) new generations of leaders who are willing and able to work across differences.
Leading across political divides