Within Thailand alone, there are dramatically different geographies and cultures.  Bangkok is centrally located at the top of the Gulf of Thailand.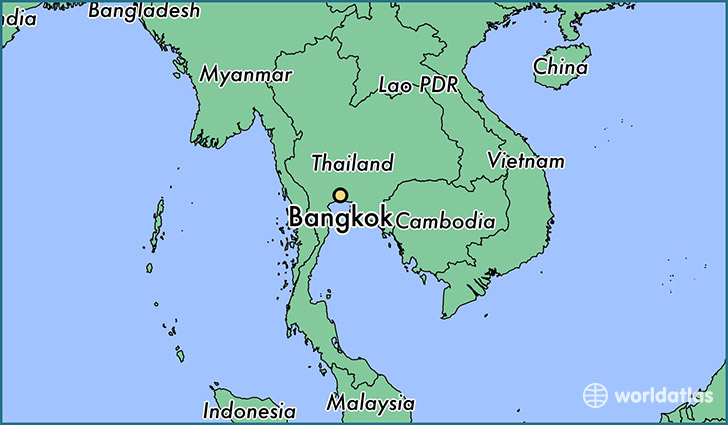 To the South and East, you move toward Cambodia and Vietnam. To the South and West, you move down a long peninsula toward Malaysia, a region known for it's pristine beaches as well as it's tense religious conflicts.
Bangkok is a major metropolitan region with a population of 15+ million people in the metro area.
In addition to it's vibrant local culture, it is a modern, international in it's own right and an economic hub of the region. It was also noted by Forbes to be the most visited city by tourists in 2016. There are plenty of Western retail shops, eateries and convenience stores so that the American tourist doesn't have to look too far for a Dunkin Donuts, Starbucks, KFC, 7/11 or Circle K. Don't let this fool you, as there is plenty of local flair throughout the city mixed in with the modern influences.
As far as shopping goes, you have access to some of the trendiest and most upscale shopping experiences in the world in the area known as Siam Square.
A series of interconnected, multi-storied malls target shoppers at all spending levels.  MBK is known for its cheap goods and a great place to get an inexpensive Sim Card for your phone, cheap eats and discount clothing.  For the more expensive tastes, Siam Paragon has a Lamborghini dealership in the mall, along with Prada, D&G and all of your high end designer needs. CentralWorld has an indoor ice skating rink and it is common to see Thai boy bands or girl bands performing their lip-synced pop dance acts in various mall stages and performance areas for hordes of screaming teens.
On the other end of the shopping spectrum, Bangkok has countless street markets, some which are temporary and others which are permanent.  The Chatuchack Weekend Market is the biggest of these, taking up a massive city block and filled to the brim with endless shops full of inexpensive goods. The market is so big that you might need a map and you could easily spend a full day there without getting to see the whole thing.
As you move to the interior of the market, you come to a huge food area with numerous vendors, and toward the back is the animal area.  Thailand's animal laws are a bit more lax than the US and you may see some potential pets that you would not be allowed to bring back to America.
You have to be mindful in the market of prices, as vendors will haggle because there is likely several other vendors close by selling the same products.  So take your time and shop before deciding to spend. Also, the market can get crowded so be mindful of pickpockets and keep you money in a secure location on your person.
Chiang Rai and Northern Thailand
Northern Thailand is distinctly different in geography and culture from Bangkok. Mountainous in terrain, Chiang Rai is in one of the northern-most provinces. The region is very agricultural and rice production is a key cash crop.  The food in Chiang Rai is a little less spicy and a little more savory, with foods like sausage being local favorites.
Unlike the fast-paced metropolitan feel of Bangkok, Chiang Rai has a more relaxed pace. In terms of diversity, Northern Thailand is home to ethnic minorities known as hill tribes, with their own distinct cultures, languages and histories.  Until recently, Thailand did not recognize most of the hill tribe people as Thai citizens and the process to become a citizen for hill tribe people was costly and time consuming.  These days, the process is easier but still not completely without challenges.
The Greater Mekong Subregion
Thailand and Cambodia and their being situated in what is known as the Greater Mekong Subregion. The following website will provide some in-depth information about the region and it's particular circumstances.
https://greatermekong.org/
As you can imagine, the Mekong River is a key geographical feature of the region, running from southern China, and through Burma, Laos, Cambodia Thailand and Vietnam.  The tri-country point where the Mekong flows between countries is known as the Golden Triangle, which is only a few hundred kilometers from where we will be in Chiang Rai. This Golden Triangle was known in the mid-20th century as a hub of opium production but that reputation was squashed by controversial former Prime Minister Taksin, whose strict drug policies eliminated opium in Thailand.  Drug trafficking and use are heavily punished in Thailand. Although underground drug trade does exist, consequences can go up to and include death!
Also, there are plenty of other major rivers in the region. Running right through the heart of Bangkok is the Chao Praya River, a sizable body of water in it's own right. The Chao Praya moves massive amounts of sediment out into the Gulf of Thailand, which is rich in nutrients for that reason.  This is also why the Gulf is very muddy close to the northern portion. However, moving south several hundred kilometers, away from the mouth of the Chao Praya, you find some of the most pristine beaches and crystal clear water on earth.
Siem Reap Cambodia
Siem Reap is one of the most visited UNESCO World Heritage sites on the planet, largely because it is home to Angkor Wat. Angkor Wat is complex of temples for the original Angkor Empire (or Khmer Empire) which began around 800 CE. The vast empire stretched over most of present day Southeast Asia at one time.  The temples are relics of a technologically and culturally advanced society with extensive resources, complex organization, and a deep culture.  This image is of the main Angkor Wat temple.
Angkor Wat sits at the center of a 3+mile long moat/lake.
Angkor Wat is not nearly the only temple on the grounds, although it is the largest. Others include Bayon, known for its large stone heads,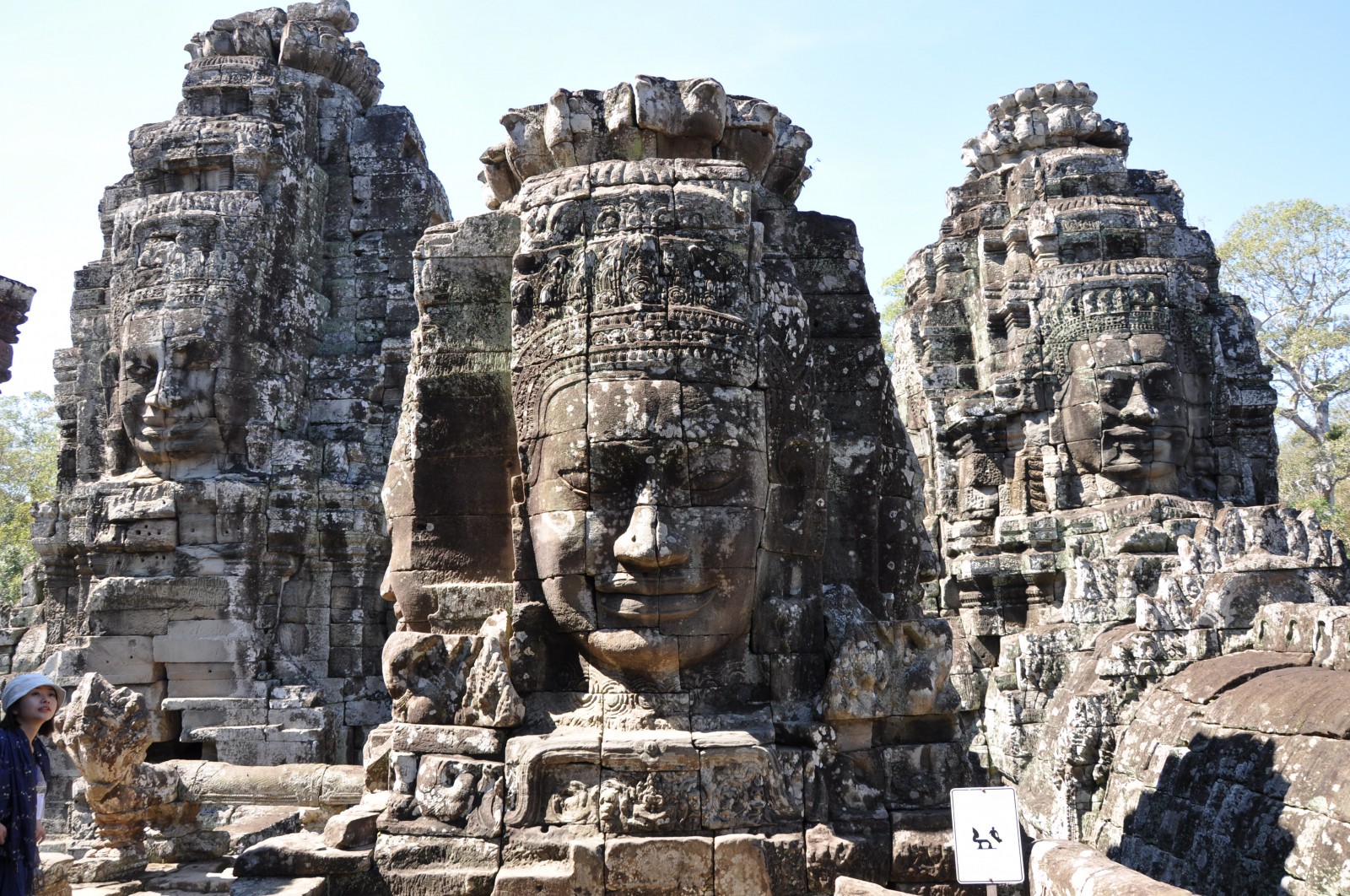 and Ta Prohm
Known for the invasive fig vines.
Siem Reap is a nice and fairly modern city in it's own right.  Although small, it has a hefty proportion of restaurants and shopping options.
Poipet
The small border city of Poipet is the other stop on our Cambodian trip. This major border crossing point is where many tourists cross on their way to Siem Reap or Bangkok.  It is also a major region for Cambodians crossing into Thailand for work.