Editor's Note: Our music review column "Spider Sounds" has had a name change and will now be known as "Arachnophonia". The name has changed, but the idea remains the same — members of the UR community can share their thoughts about items from the Parsons Music Library's collection. All links included in these posts will take you to either the library catalog record for the item in question or to additional relevant information from around the web.
Today's installment of Arachnophonia comes courtesy of Music Library Student worker Colette (class of 2017), and features indie folk band Bon Iver's second album. Thanks, Colette!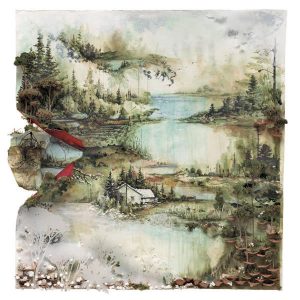 This album has been one of my favorites since high school. Two years after "For Emma, Forever Ago" was released in 2008, Bon Iver's sophomore release was this self-titled album.
"Holocene" is one of my favorite tracks on the album. The intro features intricately woven electric/acoustic guitars and vibes. While the beginning of the song is gentle and almost mesmerizing, by the time the chorus rolls around, the song picks up. The chorus lyrics are not your typical "pop" chorus:
And at once I knew I was not magnificent
Huddled far from the highway aisle
Jagged vacance, thick with ice
And I could see for miles, miles, miles
"Towers" is also a favorite. This tune demonstrates the poetic nature of the group's lyrics. The lyrics are a rhyming poem, which detail the process of falling in, then out of love. Some of my favorites include:
From the faun forever gone
in the towers of your honeycomb
I'd a tore your hair out just to climb back darling
when you're filling out your only form
can you tell that it's just ceremon'
now you've added up to what you're from
If you're looking for a folk/indie album that's not like the rest, check out Bon Iver's "Bon Iver".