by Harry Cohen (L'22)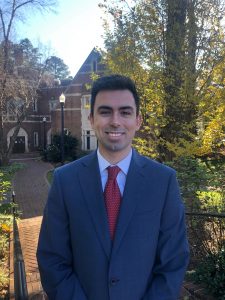 The summer of 2020 definitely threw us all for a loop, but there were still great experiences to be had in the world of legal internships. I was lucky enough to have served as the legal intern in the chambers of the Honorable Judge Robert Vinci in my hometown of County of Bergen, in New Jersey. Judge Vinci presided over criminal matters and while there were no trials due to COVID-19, I was able to observe both pre- and post-trial work, draft motion orders, and conduct legal research for the court. Judge Vinci's staff was small which allowed me to take on a larger role quickly and have my work critiqued by both the clerk and Judge Vinci.
In addition to sharpening legal skills, judicial internships help open the eyes of law students to the real-world interactions between our justice system and everyday Americans. The vantage point of a judicial intern is such that they have the ability to truly delve into the arguments of each side of the case while being able to access the thought process of the Judge. The access to this vantage point is invaluable and is an experience I'm sure will help me as my legal career advances. I would strongly recommend a judicial internship to anyone who is interested in sharpening their legal skills and broadening their horizons.
I applied to five judges prior to COVID-19 erupting. I actually showed up unannounced to the Courthouse and handed resumes to the law clerks. This is probably not as applicable in the time of COVID, but Aaron Campbell as well as Professor Janto can connect students with resources that will enable them to research different judges and make contact with chambers directly.
Harry Cohen served as a judicial intern for the Bergen County Criminal Division of New Jersey State Courts during the summer of 2020.
For more insight into summer judicial internships, read blogs from former students here and here.