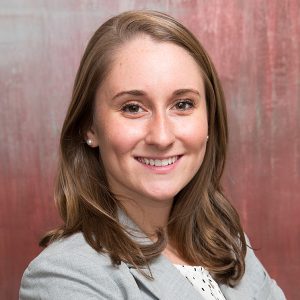 By Sarah Mikowski (L'19)
Judicial internships are a great opportunity for law students, especially in the summer between their first and second year. I interned for a federal magistrate judge my 1L summer and really enjoyed my experience. Through my judicial internship, I formed a close working relationship with the judge, as well as my fellow interns. The work was flexible and enjoyable. As interns, we split our time among drafting an opinion for the judge, researching and writing memos for settlement conferences as well as attending court proceedings.  Aside from these scheduled settlement conferences and lunch with the rest of our chambers, the schedule of our workday was up to us. If an interesting court proceeding or trial was happening, we were free to go and watch in any judge's courtroom. Watching court allowed us to see skilled lawyers in action and learn the do's and dont's of a courtroom. From observing court, we also learned about the different courtroom personalities of the judges and how best to be effective advocates in their respective courtrooms.
Throughout our judicial internship, we had weekly "field trips" to various government facilities in the Richmond area. We visited the federal prison in Petersburg, the Capitol, the Fourth Circuit Courthouse, the forensics building and more.  Each week, the judges arranged for us to have lunch with Richmond attorneys representing all areas of the law including big law firms, small law firms, in-house counsel, the prosecutor's and public defender's offices and other public service jobs. This was a great networking opportunity!
I wouldn't trade my time as a judicial intern. I became a better researcher and writer and learned from skilled attorneys and judges. I formed productive working relationships with the law clerks in my judge's chambers and the court staff. These relationships will be beneficial in future practice before the court. Another major benefit of a judicial internship is having a judge in your corner that is willing to serve as a recommendation. You can't go wrong with a judicial internship your 1L summer, and in my opinion, it is the best option and a wonderful learning experience.
Sarah Mikowski is now an associate with Hirschler.