EDITOR'S NOTE:
This guest post by Delia Flanagan, one of the student employees at Parsons Music Library, sheds great light on the way music serves society, promotes peace, and works to unify people in conflict zones. Thank you, Delia, for these valuable thoughts!
_________________________
This past year I lived in one of the most hotly-debated conflict regions. Each passing day, as one would assume, I was faced with the most powerful of weaponry. This almighty force however, is not exclusive to any one side of the Israeli-Palestinian conflict. In fact, it is fiercely maneuvered and discharged daily on both sides of the Israel Separation Wall. Everyone has access to it: all ages, all socio-economic stances, all political perspectives and all paths of faith. Due to the rapid fire of globalization, this weapon is continuously spreading and gathering greater force and subsequent influence across checkpoints, nation-state borders, and ideological barriers.  Day by day this weapon continues to have a tremendous and lasting impact on every soul it passes. The trembling effects of this weapon veer away from those of the archetype ammunition, that is, destruction, demolishment, and dehumanization.  Instead, this weapon produces and is produced by love. This weapon is music.
The powerful effects of music are generally known and understood. Yet in a region where politics and warfare are the epicenter of international attention, discussions of power and influence revolve around military officials, security forces and political bureaucrats. The influential transcendence of music however, going beyond all positions, perspectives and polities, is often ignored and overlooked.
Throughout my experience in Israel/Palestine/the Holy Land (or whichever name you and/or your political perspectives label this region,) I distinctly noticed the prevailing effects of music in bringing peace, love, compassion and empathy between Israelis and Palestinians. Yet as an American—especially one without ancestral, ethnic or religious ties to either side of the conflict—the almighty force of music served as the ultimate factor in connecting my individual self to the widely diverse and complicated territory I came to call my home. While the limited knowledge I had in both Hebrew and Arabic allowed me to converse with the local community greater than the average Western traveler, my sincere passion for music was the ultimate ingredient for immersing and engaging myself as a native. Whether I was listening to a live Oud player with friends in Ramallah, or dancing at a trance music festival in the Negev desert, music allowed me, and all of those around me, to eradicate any preconceived labels or harmful barriers, put the discourse of war and conflict aside, and rather bask in the transmitting waves of love, unity, and respect for all.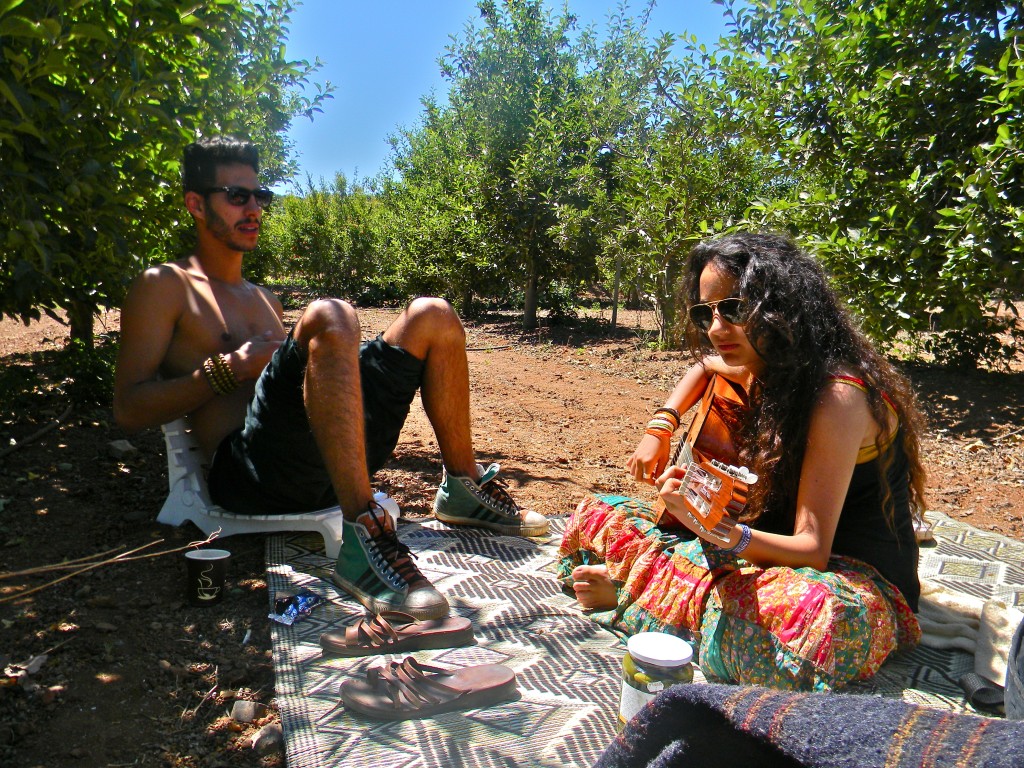 Now that I am back on the University of Richmond campus, I long for that feeling of utter peace and compassion amidst living in a conflict zone. Fortunately there are many outlets for me to be brought back to this particular state of bliss. While working at Parsons Music Library, I continuously come across a variety of CDs that allow me bring the sounds of the Holy Land into my Richmond experience. In particular, the "Desert Blues- Rêves d' Oasis" collections, along with "Zaghareed: music from the Palestinian holy land" and Palestinian hip hop group DAM's "Dedication" album have allowed me to reminisce on the beautiful and spiritual sounds, collecting my memories and nurturing my nostalgia in order to push forth with my final year at the University. The sounds inspire me as I begin contemplating which path to take upon graduation, as I long to live in a place again, where despite all of the volatility of political combustion, music continues to spread as the almighty weapon of force and love.