Even though we may not feel it, the ground beneath us is in almost constant motion.  There are hundreds of earthquakes each year; however, many are not felt or occur far away from civilization.  Tectonic plates move along fault lines creating earthquakes which in turn form the landscape of our planet.  This constant changing of the earth's crust is examined in VA Science SOL 5.7.  Although earthquakes are often considered dangerous and scary events to be taken very seriously, the scientific concepts discussed in the materials that follow give students an insight into the earth in which they inhabit.
A Project Guide to Earthquakes
Written by Claire O'Neal
Inside A Project Guide to Earthquakes, you will find thirteen experiments that elementary aged students will enjoy.  This book is targeted for upper elementary students and guides their interests in the science of earthquakes through hands-on activities.  It is a newer book (10/2010) and would be a good resource for teachers to use as they explore geology in the classroom.
Earthquake Games
Written by Matthys Levy and Mario Salvador, Illustrated by Christina C. Blatt
This book is best used for upper elementary and middle school students.  Included in the book are many activities that engage the student in learning about the awesome power of earthquakes.  This is a great book to use for both earthquake and volcano experiments.  Activities presented in Earthquake Games need to be supervised by an adult, and adult assistance may be needed to decipher some of the confusing page layout.  Solid information on geology, earthquakes, and volcanoes is given in this book and the games, experiments, and activities really enhance students' interest in these topics.
Hands-on Science Projects
Written by Chris Oxlade
This is yet another very practical, experiment laden book for teachers and students to learn about not only earthquakes but many other geological and meteorological phenomena.  With a target age range of 9-12 years-old, this collection of over 50 experiments gives students a great resource from which to activate their knowledge of these subjects.  By having students interact with the scientific concepts presented, the experiments and activities in this book help teachers reach the full range of learning styles.  Also, by preforming the projects themselves, students can take ownership in their learning.
Earthquakes with Max Axiom
Written by Katherine Krohn, Illustrated by Tod Smith and Al Milgrom
This graphic novel will draw students into scientific concepts with its action-packed drawings and fast-paced action.  Earthquakes is included in a series of graphic novels centered around the main character, Max Axiom.  Again targeted at upper elementary, this book gives plenty of statistics, important events, and interesting facts about the topic while still staying with it's comic-book like style.  The Max Axiom series is a great resource for students who are below level, struggle with, or are uninterested in reading.
…If you Lived at the Time of the Great San Francisco Earthquake
Written by Ellen Levine, Illustrated by Pat Grant Porter
  This book was written to give students insight into what life would have been like before, after, and during one of the largest earthquakes ever.  Along with wonderful illustrations for visual learners, this book can either be read aloud to students or students themselves can easily read and comprehend the content.  A great cross-curricular learning resource, this book encompasses science, sociology, history while building on reading skills.  Students are placed into the disaster through vivid linguistic imagery and given questions and answers that help children get a visualization of what it may have been like to be involved in the earthquake.
This website is presented by the United States Geological Survey and contains links to student focused activities, games, and facts.  The site can be navigated by either teacher or student and contains resources for both as well.  Due to the amount of information contained within the links, this tool would be best used by having the teacher guide the student step-by-step through a process that would be most beneficial to the scope of learning.  However, the site can also be used by the student alone in spare time to explore areas of interest that may lead to furthering knowledge.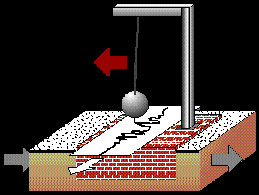 Perfect website for older elementary students to navigate. Earthquake information, science, terminology, and images bring to life the concepts involved in earthquakes.  There are also plenty of other links to further information on each section so that students can get more in depth knowledge on a particular interest.  While the site is directed towards children, teachers can benefit from the lesson plan links offered at the bottom of the page and other topics linked on the left column.
Dragonfly TV is a production of PBS Kids that is geared towards involving kids in the knowledge through videos, games, and other interactive resources.  This particular link leads the teacher and/or the student to a video in which two young girls discuss earthquakes where they live.  Along with factually laden information given by peers, this video shows the girls preforming actual science as well.  Although the video is a little lengthy for the classroom, the other links on the page will give teachers more great resources to interact students with the concept of earthquakes.
Earthquakes 101
A short video (about 2 1/2 minutes long), made by National Geographic (a well recognized institution) gives students vivid images and plenty of factual information.  Although the tone of the video is a bit serious and focuses on the severity and destructive nature of earthquakes, it is a good introduction to the concepts and science behind earthquakes.  The imagery shown in the video will enhance visual learners ability to grasp the geological concepts presented.
Kid Scoop Special Report: Earthquake in Haiti 
  This website gives students a current event experience with earthquakes.  There are several other resources on this site to accompany the actual story of what happened including ways kids can help raise money and awareness.  Hopefully the links and suggestions on this site will further a student's knowledge, understanding, and questioning about the topic of earthquakes as well as the human condition/social awareness.
An interactive model of the different ways tectonic plates move, this will help students visualize the effects of earth movement.  By actually moving the the earth themselves, students are much more interactively involved in the scientific concept of plate tectonics.  Also, this activity gives students an idea of the spacial-relations involved with earthquakes by appealing to their senses of touch, sight, and using motor skills/hand-eye coordination.
Earthquake Legends Throughout the World 
From the California Department of Conservation, the California Geological Survey has put together a list of legends that explain the phenomena of earthquakes.  This multicultural list can be used as a cross-curricular tool tying the earth science unit of earthquakes and plate tectonics to the telling of legends and myths in the english department.  Also, there is the multicultural connection that can be made with students who have family connections to one or more of these legends.
California Real Time Earthquakes
What a cool resource!  This map shows a real time map of earthquakes in California, perhaps the most active state in the country.  Students can see the amount and frequency of earthquakes throughout the state and can click on the individual quake to find out more information about each specific occurrence.
Shaken! Earthquake Rocks Central Virginia
This report gives students a localized notion of earthquakes.  Although the information contained within the report is well above elementary level reading and comprehension, this resource is still a useful tool for teachers.  There are good maps for students to explore and some of the information will help to teach about plate tectonics.  By using information that is local to Virginia students, their interest will be piqued and perhaps students will develop more questions from which the teacher could build the learning process around.