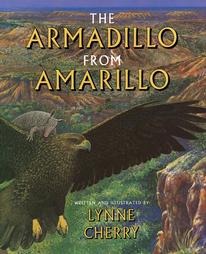 "An armadillo from Texas wondered,
"Where in the world am I?
What's out beyond these tangled woods?
What's out beyond the sky?"
Introduction and Summary
The Armadillo From Amarillo by Lynne Cherry is a beautifully illustrated tale of an armadillo's journey around Texas hoping to discover more about where he is through a world perspective.
Sasparillo the armadillo lives in Texas, longing to discover his place in the world and the surrounding environments he has never seen. The curious armadillo witnesses some of the cities, historic sites, wildlife, and geographic features of Texas on his travels.  His eagle friend teaches him the meaning of terms such as city, state, country, continent, earth, and planet. There are also a multitude of beautiful oil pastel/watercolor scenes of maps, the environment, and Earth!
Curriculum Connections
This story is a great introduction to maps with its pictures of many perspectives and variations (physical/climate/political). The students will be able to recognize basic map symbols and reference land, water, cities, and roads. The student will also describe how location, climate, and physical surroundings affect the way people live, including their food, clothing, shelter, transportation, and recreation. (SOL 1.4, 1.5, 1.6)
Fun Activity:  Have the students construct a simple map of a familiar area such as the school yard, using basic map symbols and a map legend!
Additional Resources
** The back of the book contains an excerpt all about armadillos! For those of us who haven't grown up around the Texas area, this is a great resource to provide students with information about this unique animal!
Book: The Armadillo From Amarillo
Author/Illustrator: Lynne Cherry
Publisher: Harcourt Brace & Company
Publication Date: 1994
Pages: 28
Grade Range: 1st through 3rd
ISBN: 0-15-200359-2