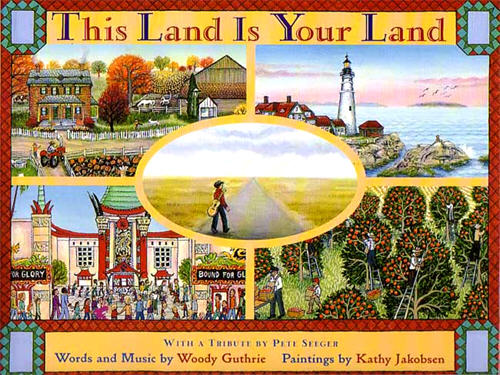 "This land is your land, this land is my land, from California to the New York island, from the redwood forest to the Gulf Stream waters, this land was made for you and me."
Every child in the United States should know this time honored folk song by Woody Guthrie. Put to paintings by Kathy Jakobsen and with a forward by Pete Seeger, This Land is Your Land can be used to introduce all ages to topics in US History, Geography, and Economics. Jakobsen depicts the land and livelihoods of people all over the United States. Landscapes, cityscapes and landmarks are conveniently captioned and quotes from Guthrie and other famous poems and people about important US events and hardships are included on each page. This book also includes a 3 page fold-out picture map of the United States which depicts people all over the country and their cultures.
Appropriate at any age, this book is a wonderful addition to the classroom. Younger children will appreciate the sing-song fluidity of the words and will learn about the US and it's people and places without even knowing it. In the last few pages, Pete Seeger pays tribute to Woody Guthrie and includes a short biography with pictures of Guthrie and his life and quotes from his songs. For this reason, this book can be used for older grades and ages as an author study. This book also touches on more complex world issues such as economy, class, and race which are important issues discussed in upper grades. This book is quick, easy to read, and versatile; it can be incorporated into any social science lesson!
"This world is your world and my world. Take it easy, but take it."
Curriculum Connections
This classic picture book would be suitable for any age but relates specifically to the kindergarten and first grade students Standards of Learning as an introduction to geography. For kindergarten, this book provides a basic introduction to basic map skills and land masses as well as people in real life situations. For first grade, this book can be used to reinforce map skills and land masses and can be used as an introduction to diverse cultures and lifestyles and the location of landmarks and states.
Virginia Kindergarten Standards of Learning: Geography: K.3, K.4, K.5; Virginia First Grade Standards of Learning: Geography: 1.6.
Additional Resources
General Information