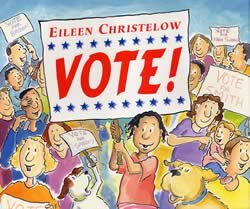 Elections, elections, elections have been the pressing news topics recently with the President Campaign just ending. What better way then to teach students about the importance of voting with the book Vote! by Eileen Christelow. The book does an outstanding job in explaining all about voting, the importance of it and how it actually works in children friendly language.
The book begins by using a town that is looking to elect a new major. The text follows the process of a campaign starting by explaining voting and ending with the inauguration of the new mayor, even adding in a recount. Christelow gives background information of the history of voting, registration process, different political parties. fundraising and how the ballots are counted:
If you want to vote, you need to register. Where? At your town office. Or you can download a registration form from the Internet or you might even find a both set up at a shopping mall or at a political rally (Page 17).
The colorful, comic like illustrations provide excellent support for the text and have relevant bubble captions. One of the most impressive aspect of the book is additional information included. It includes a vocabulary sheet in simple language, a timeline of voting rights, information on political parties and additional references. This book would be a great way to introduce your class to voting and all of the processes involved in a way that tailors to questions children would have or be unsure of. The book is simple, informative and a fun way for your class to learn about their civic duty and how every vote counts!
Curriculum Connections
This book would be a great way to introduce the civic duties of citizens they have as they get older such as voting. It talks about our responsibility to be active in voting as it impacts the schools, town and laws being made and how each person has a voice. In Virginia it would relate to the Standard of Learning for Civics, where students can explain the responsibility of being a good citizen by taking part in the voting process of classroom decision making (1.10 f, 2.10 b)
Additional Resources
Book: Vote!
Author/Illustrator: Eileen Christelow
Publisher: Clarion Books
Publication Date: 2003
Pages: 48 pages
Grades: 1-3
ISBN: 0618247548