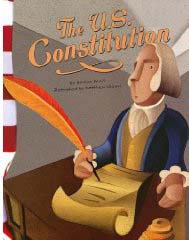 Do you want to learn about one of the greatest symbols of democracy? The U.S. Constitution, written by Norman Pearl, introduces students to the foundation that the United States government is based on. It begins by having James Madison, a man who played a large part in the construction of the Constitution, lead readers on a tour. He discusses what the Constitution consists of, who made the Constitution, and all of the different parts that guarantee rights to the citizens of the United States.
In clearly defined questions and terms, Pearl lays out for a young reader the important parts of the Constitution and what they stand for. There is an entire page devoted to describing the different branches of government with bright and bold  illustrations that create an easy way for readers to visualize who and what make up these entities.
The articles divide the U.S government into three branches. Each branch has different powers. No one branch can become stronger than the others.
Pearl not only describes the freedoms that the Constitution guarantees for the adults of this country. He also talks about the rights that children are privileged to, such as the ability to go to school for free and a limit on the number of hours they can work.
This book is very well labeled for students to find exactly what they are interested in or looking for. The print is large and easy to read and the illustrations do not get in the way of the information being addressed. The last few pages even give additional resources for students who want to learn more,  extending the knowledge they have already gained from this very informative book.
Curriculum Connections
This book could be used to explain the purpose of rules and laws, and that the government protects the rights and property of individuals. It could also be used to explain that the basic purposes of government are to make laws and carry them out. (3.10) This book could be used to explain the importance of the basic principles that form the foundation of a republican form of government by describing the individual rights to life, liberty and the pursuit of happiness.(3.11)
Additional Resources

Book: The U.S. Constitution
Author:  Norman Pearl
Illustrator: Matthew Skeens
Publisher: Picture Window Books
Publication Date:2007
Pages: 24
Grades: 1-4
ISBN: 1-4048-2646-7