I have always been a fan of the Games Magazine puzzles called "Eyeball Benders." These are a type of puzzle in which the reader must identify a common object pictured in a close-up and generally uncommon view. Here is an example from the July 2008 cover of the magazine.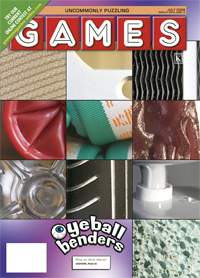 Why do I mention these puzzles in a book review? Because the new series Looking Closely from Kids Can Press uses this type of visual puzzle as an introduction to natural environments. Written and photographed by Frank Serafini, the books challenge readers to guess the identity of each close-up photo. The cropped images on the right hand page are framed in black. The small circle that is visible allows readers to focus on just one part of the larger image. The left hand page in each spread begins with "Look very closely. What do you see?" What appears next are two ideas designed to get readers thinking. The page ends with the words, "What could it be?" On the next page each object is shown in its habitat and accompanied by a description.
The first page from Looking Closely Inside the Garden is focused on the wing of a butterfly. The next page begins with the words "It's a Monarch Butterfly." The text reads:
In autumn, when the weather grows cold, monarch butterflies fly south to Mexico and Central America. They follow the same path every year.

At the end of their long journey, monarch butterflies lay their eggs on milkweed plants. When caterpillars hatch from the eggs, they munch on milkweed leaves until their bodies are large enough to form a smooth chrysalis. Eventually they emerge as butterflies.
Each of the books highlights nine plants, animals or objects from the environment. The last page features a double-page photograph of the environment.
Looking Closely Across the Desert features plants and animals, as well as sandstone and sand dunes. One close-up photograph is focused on the foot of a spiny lizard. The full page photograph shows why these lizards blend in with their environment. The text describes why this camouflage is so beneficial.
Each book ends with the following photographer's note.
Photographers pay attention to things that most people overlook or take for granted. I can spend hours wandering along the shore, through the forest, across the desert or in my garden, looking for interesting things to photograph. My destination is not a place, but rather a new way of seeing.

It takes time to notice things. To be a photographer, you have to slow down and imagine in your "mind's eye" what the camera can capture. Ansel Adams said you could discover a whole life's worth of images in a six-square-foot patch of Earth. In order to do so, you have to look very closely.

By creating the images featured in this series of picture books, I hope to help people attend to nature, to things they might have normally passed by. I want people to pay attention to the world around them, to appreciated what nature has to offer, and to being to protect the fragile environment in which we live.
Dr. Serafini succeeds beautifully in getting readers to attend to the small details found in nature. His images will surely capture the imagination of children and adults alike.  Readers will delight in this photographic introduction to natural environments. I know I did. I highly recommend these engaging titles, and can't wait to get my hands on the rest of the series. Other titles include Looking Closely Along the Shore and Looking Closely Through the Forest.
Books: Looking Closely Inside the Garden and Looking Closely Across the Desert
Author/Illustrator: Frank Serafini
Publisher: Kids Can Press
Publication Date: 2008
Pages: 40 pages
Grades: K-4
Source of Book: Review copies received from Raab Associates.
This post was written for Nonfiction Monday. Head on over to Anastasia Suen's blog and check out all the great posts highlighting nonfiction this week.