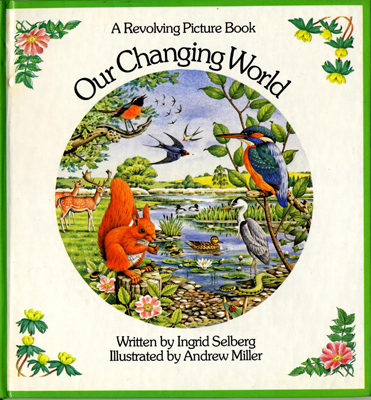 Curious about how the world changes from day to night, season to season, and place to place. In Our Changing World, by Ingrid Selberg, the reader is able to learn and see the differences through the revolving pictures.
The book describes different and very distinct regions. The reader first learns about the the region through a brief summary of how it is like to live in that area and what animals live their. The description tells the differences of day and night for the woodlands. This summary elaborates about the woodpecker which thrive in the woodlands during the day. However, different animals are then introduced because they only come out in the night(e.g. the owl, shy badger, hedgehog, bats…) There is also a rotation picture that shows the woodlands in the day and night with all the different animals included.
Ingrid Spelberg tries to show how the environment changes from day to night. She also the differences in regions because she then show the desert and how it looks in the day and in the night. It is great to see which animals also live here and which cannot survive the heat.
Ingrid Spelberg does compares the Mountain region, lakes and marshes, and Arctic Tundra but this time she is compares the different seasons. She describes the animals that come out as well as how the region looks in the winter and summer. The rotating pictures are a great visual tool to compare and contrast.
Curriculum Connections
Our Changing World is a great introduction for students to begin acknowledging a world that is constantly changing, whether it be through day and night or season to season. This is a great tool for teacher to use when they want students to notice whether observations in there daily life which correlates to sol k.8 a and c in Virginia.
Additional Information
Instructor Web Has a great lesson in which students are able to create their own pictures of the seasons and describe them with a short sentence or phrases. Great compare and contrast activity.
Love the Outdoors has great activities. One activity that connects perfectly is a scavenger hunt that allows students to go outside and look for animals and plants. This activity allows students to understand that there are many living things outside.
Teaching is a Work of Heart has a great lesson that is geared for young students. The students create a tool to see the direction of wind, this allows them to notice more things about the outdoors.
Book: Our Changing World
Author: Ingrid Selberg
Illustrator: Andrew Miller
Publisher: Putnam Pub Group
Publication Date: 1982
Pages: 13 pages
Grade: K-2
ISBN: 978-0399208690