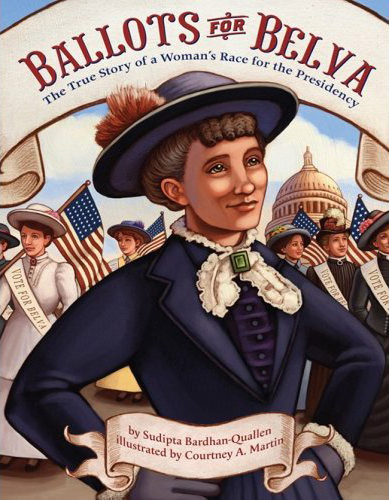 I'm tired of politics. No, really. I'm tired of speeches, commercials, trash talk, e-mail messages and the constant chatter (not all of it polite or respectful) that has hijacked many a listserv and lunchroom conversation. Don't get me wrong, I am invested in this election and following closely, but I just don't want to hear/talk about it all the time. So, while you won't find me blogging about the presidential election, I'm happy to review books relating to politics and elections. Enter  Ballots for Belva: The True Story of a Woman's Race for the Presidency, written by Sudipta Bardhan-Quallen and illustrated by Courtney A. Martin.
This is the story of Belva Lockwood, an independent-minded woman who ran for president in 1884 and 1888. Early in this biography we learn that Belva was married, gave birth to a daughter, was widowed, graduated from college, worked as a teachers, started a suffrage group, and married again. At the age of 39 she decided she wanted to become a lawyer, but no law school would admit her. A response from one was:
Madam- The Faculty of Columbian College have considered your request to be admitted to the Law Department of this institution, and, after due consultation, have considered that such admission would not be expedient, as it would be likely to distract the attention of the young men.
Belva didn't give up, and soon she was one of 15 women invited to enroll in the newly formed National University Law School (now George Washington University Law School). The school didn't make things easy for the women, and int he end, only two women finished all their coursework. Belva was one of them. However, the law school refused to grant a diploma to a woman. Only after writing a letter to President Ulysses S. Grant, also president (ex officio) of the law school, did Belva receive her diploma. Not only did Belva become the first female graduate of National University Law School, but she also became the first woman to practice law in federal court and the first to argue a case before the Supreme Court.
Long having fought for the equality of men and women before the law, Belva was a staunch supporter of a woman's right to vote. She attended two Republican conventions in an effort to make women's suffrage a part of the official platform, but her pleas were ignored. Then, in August of 1884, Belva was nominated at the Women's National Equal-Rights Convention for President of the United States. On September 3rd she accepted the nomination. Belva selected another woman, Marietta Stow, as her running mate.
Belva faced an uphill battle all the way. Newspapers called her campaign "the most laughable masquerade this city has every witnessed." Many women opposed her run for president. Men dressed up in women's clothing pretending to be her. The National Woman Suffrage Association did not support her. Belva didn't let these things stop here. She traveled across the country, delivering her message of equal rights for all, regardless of race or gender.
Belva didn't win the election (Grover Cleveland did), but she did win votes. While the number recorded is 4,711 popular votes, there could have been many more, because many of the votes cast for her in the election were never counted. The votes in Pennsylvania were thrown away because "the vote counters couldn't believe anyone would actually vote for a woman." In some cases her votes were given to other candidates, like in New York, where all 1, 336 votes for Belva went to Cleveland. The book ends with an author's note, glossary, timeline of women's suffrage in the U.S., and selected bibliography.
The book is richly illustrated with 13 double page spreads. You can see some of these gorgeous illustrations at Courtney Martin's blog.
This isn't just a book for election time, but one that will serve as a useful resource for the study of women's rights and suffrage. This is an amazing story, remarkably told. I highly recommend it.
Book: Ballots for Belva: The True Story of a Woman's Race for the Presidency
Author: Sudipta Bardham-Quallen
Illustrator: Courtney A. Martin
Publisher: Abrams Books for Young Readers
Publication Date: 2008
Pages: 32 pages
Grades: 2-6
ISBN: 978-0810971103
Source of Book: Review copy received from publisher.
This post was written for Nonfiction Monday. Head on over to Anastasia Suen's blog and check out all the great posts highlighting nonfiction this week.