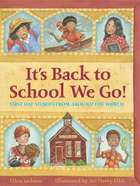 Back to school is right around the corner for many kids. As summer's end approaches, minds are on new teachers (who will it be?), new clothes (what will I wear?), school supplies and much more. First day jitters may already be appearing. In my house we have long been anticipating the start of school. Don't get me wrong–summer has been fun, but my boy is ready to go back. To get ready for school we've been reading a bit about what school is like for kids in other countries. It's Back to School We Go!: First Day Stories From Around the World, written by Ellen Jackson and illustrated by Jan Davey Ellis, provides a wonderful introduction to schooling around the world.
The book opens with a world map that highlights the countries that are featured. On each double-page spread that follows, a child is introduced through a first-person narrative of their school day on the left page, while interesting facts about children in that country are presented. Readers meet:
Achieng – An 8-year old girl from Kenya
Anton – A 7-year old boy from Kazakhstan
Kendi – A 6-year old Inuit boy from Nunavut, Canada
Jessica – A 9-year old girl from Australia
Misaki – A 6-year old girl from Japan
Jinsong – An 8-year old boy from China
Thomas – A 7-year old boy from Peru
Gunther – A 6-year old boy from Germany
Rajani – An 8-year old girl from India
Nadia – A 7-year old girl from Russia
Casey – A 9-year old boy from California (Why CA and not United States?)
The author's note at the beginning of the book provides some information about the children highlighted. It begins:
Each of the eleven children portrayed in this book is a composite of several real individuals. Obviously, every country provides a variety of educational opportunities and no one child can represent them all. Some children live in villages; others in cities. Some schools have computers and science labs; others don't even have desks or books.
Here are just a few of the interesting facts readers will learn from this book:
In Kenya, children go to school six days a week, from January to November.
In China, students who exhibit good behavior earn red neckerchiefs.
The first day of school is a time of celebration in Kazakhstan. Students there bring flowers for their teachers. (Much better than apples, I think!)
In the United States, 9 out of 10 children go to public school.
There is an extensive bibliography at the end of the book, as well as a list of web resources. I particularly liked the link to Children's Games from Around the World. The author has also provided some ideas for teachers at her web site.
Overall, this is a terrific book for thinking about back-to-school and for studying different cultures through a common, shared experience. I recommend pairing it with Edith Baer's book This is the Way We Go to School, which looks at how children in different countries make their way to school. For even more ideas, check out the thematic book list on school around the globe.
Book: It's Back to School We Go!: First Day Stories From Around the World
Author: Ellen Jackson
Illustrator: Jan Davey Ellis
Publisher: Millbrook Press
Publication Date: 2003
Pages: 32 pages
Grades: K-5
ISBN-13: 978-0761319481
Source of Book: Personal copy purchased online.
This post was written for Nonfiction Monday. Head on over to Anastasia Suen's blog and check out all the great posts highlighting nonfiction this week.