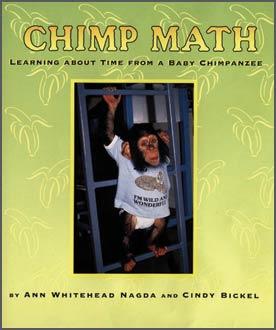 In this podcast, Farah Salman introduces listeners to the book Chimp Math: Learning About Time from a Baby Chimpanzee by Anna Whitehead Nagda and Cindy Bickel.
Introduction
Chimp Math is full of adorable photos of Jiggs a baby Chimpanzee who grows under human care first in a Kansas Zoo and then in the Denver Zoo, Colorado. The authors give details of the chimp's growth through timelines, daily charts, graphs and calendars. The book can be integrated in Math (Time), Reading and Science lessons for 2nd through 5th grades.
Additional Books
A Second is a Hiccup by Hazel Hutchins
More Information
Learn more about the author.
Jane Goodall's Wild Chimpanzees site has several good educational resources.
The San Diego Zoo has information on chimpanzees.
Podcast: Play in new window | Download