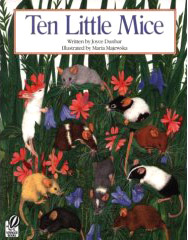 In this podcast, Jamie Malone introduces listeners to the book Ten Little Mice by Joyce Dunbar.
Introduction
In Joyce Dunbar's counting book, entitled Ten Little Mice, young math students focus on counting back from 10 to 0 by one's. The book includes creative, interesting illustrations, that match the numerals studied. This book is a useful tool when students are learning basic counting facts and number sense, as well as fundamental subtraction principles.
Related Books
Count and See by Tana Hoban
Mouse Count by Ellen Stoll Walsh
Additional Information
LearnNC has a brief lesson that uses this book.
Listen to a podcast about the book Mouse Count.
Podcast: Play in new window | Download