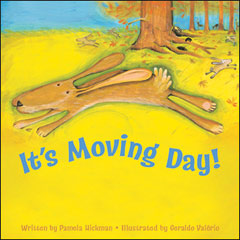 When I was a kid I was fond of exploring the woods in my backyard. I often wished I could see inside the burrows that were so cleverly hidden near gnarled tree roots and clumps of rocks. In her new book, It's Moving Day!, Pamela Hickman has granted this wish. The book begins:
The burrow lies hidden beneath
a big tree on the edge of the field.

After a long winter's sleep, the
woodchuck climbs out of his
underground home and stretches.

Time to dig his summer home down
in the farmer's pasture where
there is more food to eat.

It's moving day!
As the woodchuck looks around and prepares to leave the safety of the burrow, a rabbit can be seen in the nearby field. The cottontail hops into the burrow and soon makes it a comfortable home in which to raise her young. Her young grow and leave the burrow, and upon winter's approach, she too leaves to find a winter home. Rabbit's moving day makes way for a yellow-spotted salamander, looking for a place to hibernate.
The text is accompanied by the illustrations of Geraldo Valério. The acrylics depicting the animals and their comings and goings in the burrow are warm and full of life. The scenes move easily from season to season, connecting readers to the rhythm of life in the burrow.
After the salamander, the burrow is home to a raccoons, milk snakes, chipmunks, skunks, and finally, to bring the story full circle, a woodchuck. The book ends with a page that briefly introduces each of the animals that live in the burrow. I would match this book with Barbara Brenner's One Small Place in a Tree and Brenda Guiberson's Cactus Hotel for an expanded look at how many animals can inhabit one home over time.
This is a beautiful book that provides an engaging introduction to woodland animals and a type of home many share. I highly recommend it. In fact, I'm so smitten with this book that I am predicting a Cybils 2008 nomination in its future for nonfiction picture book.

Book: It's Moving Day!
Author: Pamela Hickman
Illustrator: Geraldo Valério
Publisher: Kids Can Press
Publication Date: March 1, 2008
Pages: 32 pages
Grades: K-3
ISBN-13: 978-1-55453-074-8
ISBN-10: 1-55453-074-1
Source of Book: Copy received from Raab Associates, Inc.
This review was written for Nonfiction Monday. Head on over to Anastasia Suen's blog and check out all the great posts highlighting nonfiction this week.